Story Mapping: An Effective Technique for Improving Students' Writing Ability at Middle School Students
Keywords:
narrative text, story mapping technique, writing skill
Abstract
This research aimed to improve the students' writing skill of narrative text by using Story Mapping Technique. The researcher used Classroom Action Research as the design of collecting data. The subject of the research was held in one class with 34 students'. It consisted of 2 cycle, in collecting data the researcher used observation sheet and writing test. The research finding of the learning activities that were improvement from cycle 1 to cycle 2. The writer had the mean score in cycle 1 was 6.28, in cycle 2 obtained the mean score was 7.74. there were increased by 1.46. The result of writing test in cycle 1 that had the mean score was 57.11 but in cycle 2 the mean score was obtained 79.56, there were increased by 23.45. There were improvement of writing test from cycle 1 to cycle 2. The writer found the result of students' completeness in cycle 1 was 41.18% and of the cycle 2 was 79,41% which active categorized. Therefore it can be concluded that the implementation of story mapping technique was successful to improve the students' learning activities and students' writing skill of narrative text at the class eighth of MTS. Raudhatul Mu'minin Bandar Lampung in Academic Year of 2021/2022.
References
Alturki, N. (2017). The Effectiveness of Using Group Story-Mapping Strategy to Improve Reading Comprehension of Students with Learning Disabilities. Online Submission.
Dian. S. S. , Eka, H. S. & Zainuddin (2019). Story Mapping Technique and Comprehending Narrative Text 5 (2). 221-234.
Harmer, J. (2005). How to Teach Writing. Stenton Associates: Malaysia.
Hastomo, T. (2019). Schoology Effects on Students' Writing Ability. Lentera: Jurnal Ilmiah Kependidikan, 12(1), 149–154.
Hastomo, T., Istiara, F., & Nurchurifiani, E. (2021). Google Classroom : An online platform for teaching English | Hastomo | Aksara: Jurnal Bahasa dan Sastra. Aksara Journal, 22(2).
Li, D. (2007). Story Mapping and Its Effects on the Writing Fluency and Word Diversity of Students with Learning Disabilities. Learning Disabilities: A Contemporary Journal, 5(1), 77-93.
Mahendra. & Rosa, N. R. (2014). Teaching Writing a Narrative Text by Using the Spin a Story Mapping Writing Prompt to Junior High School Students 3 (1), DOI: https://doi.org/10.24036/jelt.v3i1.4360.
Mathes, P. G., Fuchs, D., & Fuchs, L. S. (1997). Cooperative story mapping. Remedial and Special Education, 18(1), 20-27.
Narkon, D. E., & Wells, J. C. (2013). Improving reading comprehension for elementary students with learning disabilities: UDL enhanced story mapping. Preventing School Failure: Alternative Education for Children and Youth, 57(4), 231-239.
Patton's, J. (2014). User Story Mapping.United States of America: O'Reilly Media
Staal, L. A. (2000). The story face: An adaptation of story mapping that incorporates visualization and discovery learning to enhance reading and writing. The Reading Teacher, 54(1), 26-31.
Taylor, G. (2009). A Student's Writing Guide How to Plan and Write Successful Essays. Cambridge University Press.
Taylor, L. K., Alber, S. R., & Walker, D. W. (2002). The comparative effects of a modified self-questioning strategy and story mapping on the reading comprehension of elementary students with learning disabilities. Journal of behavioral education, 11(2), 69-87.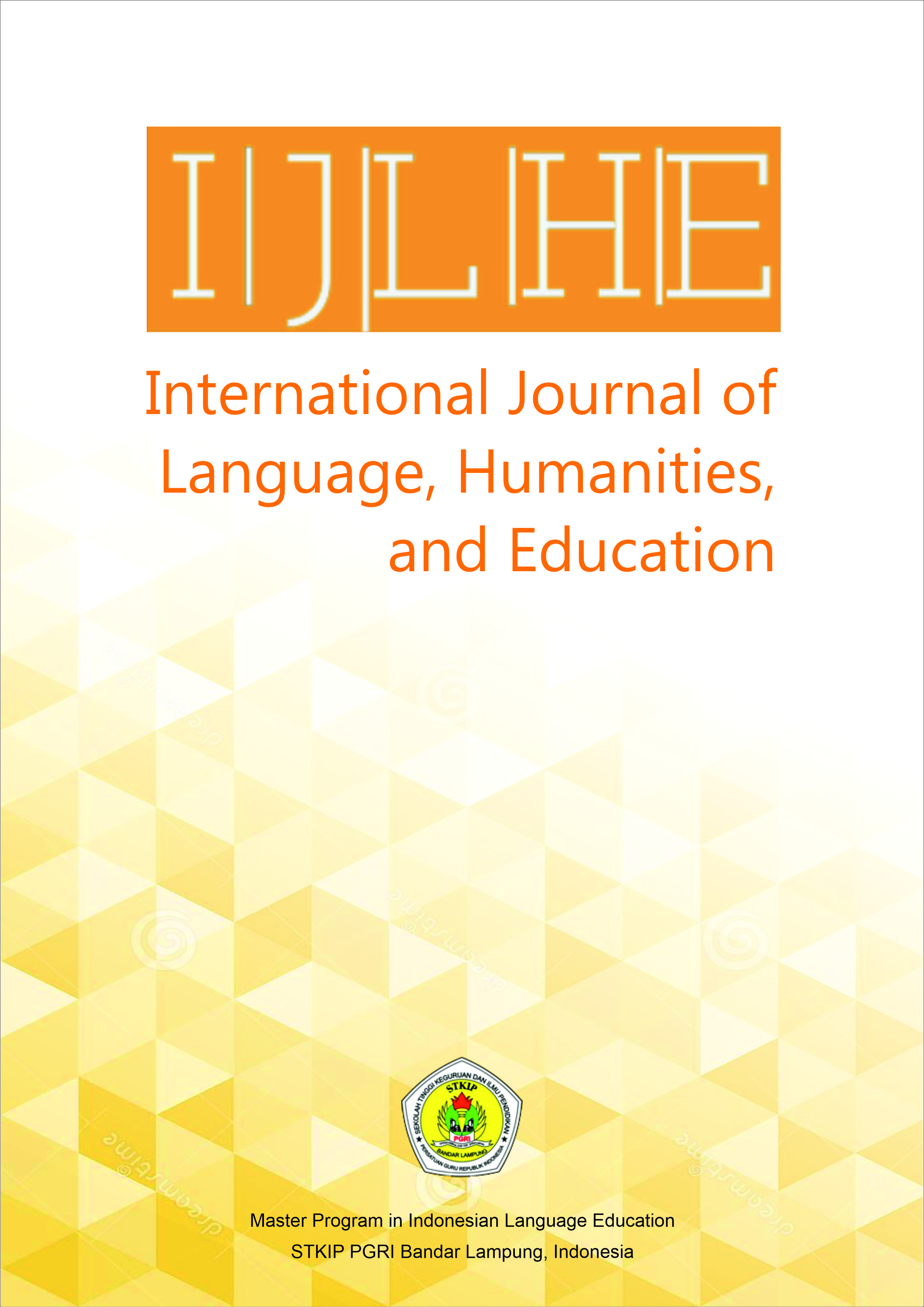 Downloads
How to Cite
Nuraini, H. ., Subari, I. ., & Wahyuningsih, S. . (2022). Story Mapping: An Effective Technique for Improving Students' Writing Ability at Middle School Students . IJLHE: International Journal of Language, Humanities, and Education, 5(1), 38–44. https://doi.org/10.52217/ijlhe.v5i1.874