How to Write a Diary using the Suggestopedia Method: Action Research on KOICA Students at Hana Language Center
Keywords:
Hana Language Center Indonesia, writing diaries, suggestopedia method
Abstract
This study aims to describe and explain the application of the suggestopedia method in BIPA learning, especially in writing diaries. The research method used is Classroom Action Research, with two cycles covering: planning, acting, observing, and reflecting. The results showed an increase in the results of the ability to write diaries in the elderly students of the KOICA class at the Hana Language Center Indonesia. First, the use of music media and the application of the suggestopedia method can improve the quality of the learning process and improve the results of the ability to write narrative essays for elderly students in the KOICA class at Hana Language Center Indonesia. Second, improving the ability to write diaries by narrating events experienced by students through the suggestopedia method with music media for KOICA class students (Indonesian for Korean speakers) at the Hana Language Center Indonesia, among others, can be seen from the results of the final test cycle I. which shows the average score achieved by students is 61.33 or is included in the good category, while in the second Cycle the average value achieved is 75.00. It means an increase from Cycle I to cycle II, as much as 13.67.
References
Akhadiah, Sabarti, dkk. (1998). Pembinaan Kemampuan Menulis Bahasa. Indonesia. Jakarta: Erlanggga.
Arikunto, Suharsimi, et al. (2013). Penelitian Tindakan Kelas: Edisi Revisi. Jakarta: Rineka Cipta.
DePorter, Bobbi. (2009). Quantum Writer "Menulis dengan Mudah, Fun, dan Hasil Memuaskan". Bandung: Mizan Pustaka.
Gie, The Liang. (2002). Terampil Mengarang. Yogyakarta: Andi.
Jack Richards & Theodore S. Rodgers. (1999). Approach and Methods in Language Teaching: a Description and Analysis. Cambridge: Cambridge University Press.
Kosasih. (2008). Fokus Bahasa Indonesia. Jakarta: Erlangga.
Legiman. "Pembelajaran Orang Dewasa". artikel. LPMP D.I. Yogyakarta. 07 May 2013.
Musfiroh, Takdioratun, Dwi Hanti rahayu, Yayuk Eny Rahayu. (2014). "Adaptasi Suggestopedia untuk Rekonstruksi Perencanaan dan Pelaksanaan Pembelajaran Menyimak Bahasa Indonesia di SMA di Kotamadya Yogyakarta". Artikel,.http://staff.uny.ac.id. diakses 31 Desember 2014.
Ommagio, Alice C. (1986). Teaching Language in Context. Boston: Massachusetts.
Peraturan Pemerintah No. 24 tahun 2009
Sujana, I Made. (2012). Program Bahasa Indonesia untuk Penutur Asing (BIPA): Peluang, Tantangan dan Solusi. Makalah "Seminar Internasional "Menimang Bahasa Membangun Bangsa" FKIP Universitas Mataram, Lombok, NTB, 5-6 September 2012.
Sumardi, Mulianto. (1975). Pengajaran Bahasa Asing Sebuah Tinjauan dari Segi Metodologi. Jakarta: Bulan Bintang
Suprayogi, Ugi. (2014). "Pendidikan Usia Lanjut". Artikel ( vol?. hal. 1-26) . UPI Bandung.
Tarigan, Henry Guntur. (2013). Menulis sebagai Suatu Keterampilan Berbahasa. Bandung: Angkasa.
Wicaksono, et al. (2015). Teori Pembelajaran Bahasa: Suatu Catatan Singkat. Yogyakarta: Garudhawaca.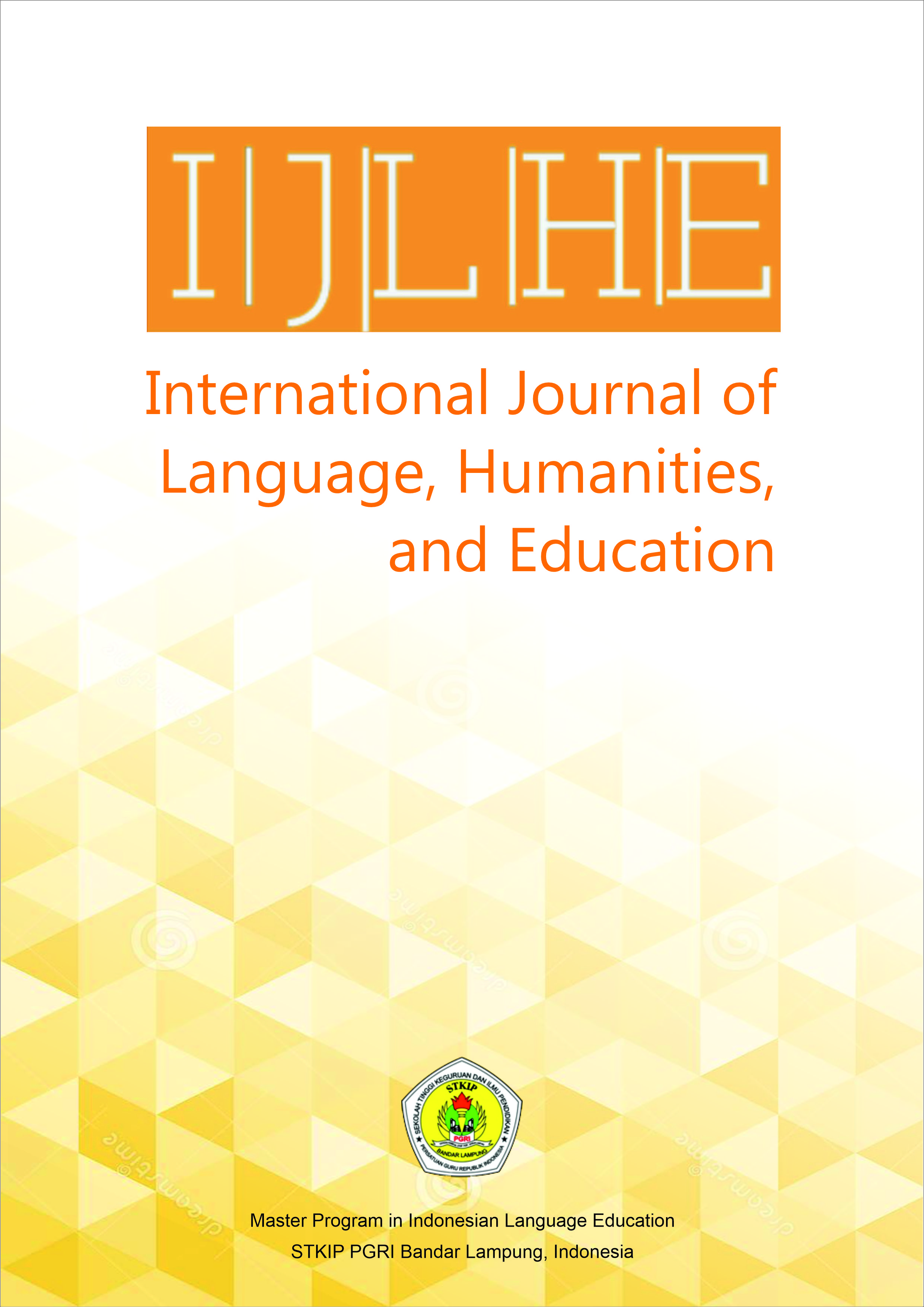 Downloads
How to Cite
Ryeo, P. J. (2022). How to Write a Diary using the Suggestopedia Method: Action Research on KOICA Students at Hana Language Center. IJLHE: International Journal of Language, Humanities, and Education, 5(2), 60–73. Retrieved from https://jurnal.stkippgribl.ac.id/index.php/ijlhe/article/view/987