The Evaluation of The Curriculum 2013 Implementation Program for Indonesian Learning at SMPN 5 Pesawaran
Keywords:
Evaluation, CIPP model, Indonesian Language Learning
Abstract
This study aims to evaluate the 2013 Curriculum implementation program in Indonesian language learning at SMPN 5 Pesawaran using the CIPP (Context, Input, Process, Product) evaluation model. This research uses the descriptive quantitative analysis method. The data studied were obtained from school principals, teachers, and grade VII and VIII students who carried out the 2013 curriculum. The data was collected through interviews, documentation, observation, and questionnaires. The assessment criteria as a benchmark for evaluation in this study refer to the references that have been made. The results of the 2013 curriculum implementation research at SMPN 5 Pesawaran in terms of context, input, process, and product, on average, only showed and achieved good results. It is suggested to teachers and policymakers to carry out evaluations and innovative activities so that the 2013 curriculum learning program in the future can be conducted more optimally with excellent results.
References
Arifin, Zainal. (2011). Konsep dan Model Pengembangan Kurikulum. Bandung: Remaja Rosdakarya.
Fadlillah, M. (2014). Implementasi Kurikulum 2013 dalam Pembelajaran SD/MI/SMP/MTS, & SMA/MA. Yogyakarta: Ar-Ruzz Media.
Gunawan, I. (2017, September). Indonesian Curriculum 2013: Instructional management, obstacles faced by teachers in implementation and the way forward. In 3rd International Conference on Education and Training (ICET 2017) (Vol. 128, pp. 56-63). Atlantis Press.
Hendriana, E. C., & Jacobus, A. (2017). Implementasi pendidikan karakter di sekolah melalui keteladanan dan pembiasaan. JPDI (Jurnal Pendidikan Dasar Indonesia), 1(2), 25-29.
Krissandi, A. D. S., & Rusmawan, R. (2015). Kendala guru sekolah dasar dalam implementasi Kurikulum 2013. Jurnal Cakrawala Pendidikan, 34(3).
Majid, Abdul. (2009). Perencanaan Pembelajaran. Bandung: Remaja Rosdakarya.
Marini, A. (2017). Character building through teaching learning process: Lesson in Indonesia. International Journal of Sciences and Research, 73(5), 177-182.
Ngalimun dan Alfulaila. (2014). Pembelajaran Ketrampilan Bahasa Indonesia. Yogyakarta: Aswaja Presindo.
Prihantoro, C. R. (2015). The perspective of curriculum in Indonesia on environmental education. International Journal of Research Studies in Education, 4(1), 77-83.
Stufflebeam, D. L., & Zhang, G. (2017). The CIPP evaluation model: How to evaluate for improvement and accountability. Guilford Publications.
Vishnupriyan, M. (2017). Curriculum evaluation: Using the context, input, process and product (CIPP) model for decision making. Indian Journal of Continuing Nursing Education, 18(2), 12.
Warju, W. (2016). Educational program evaluation using CIPP model. INVOTEC, 12(1).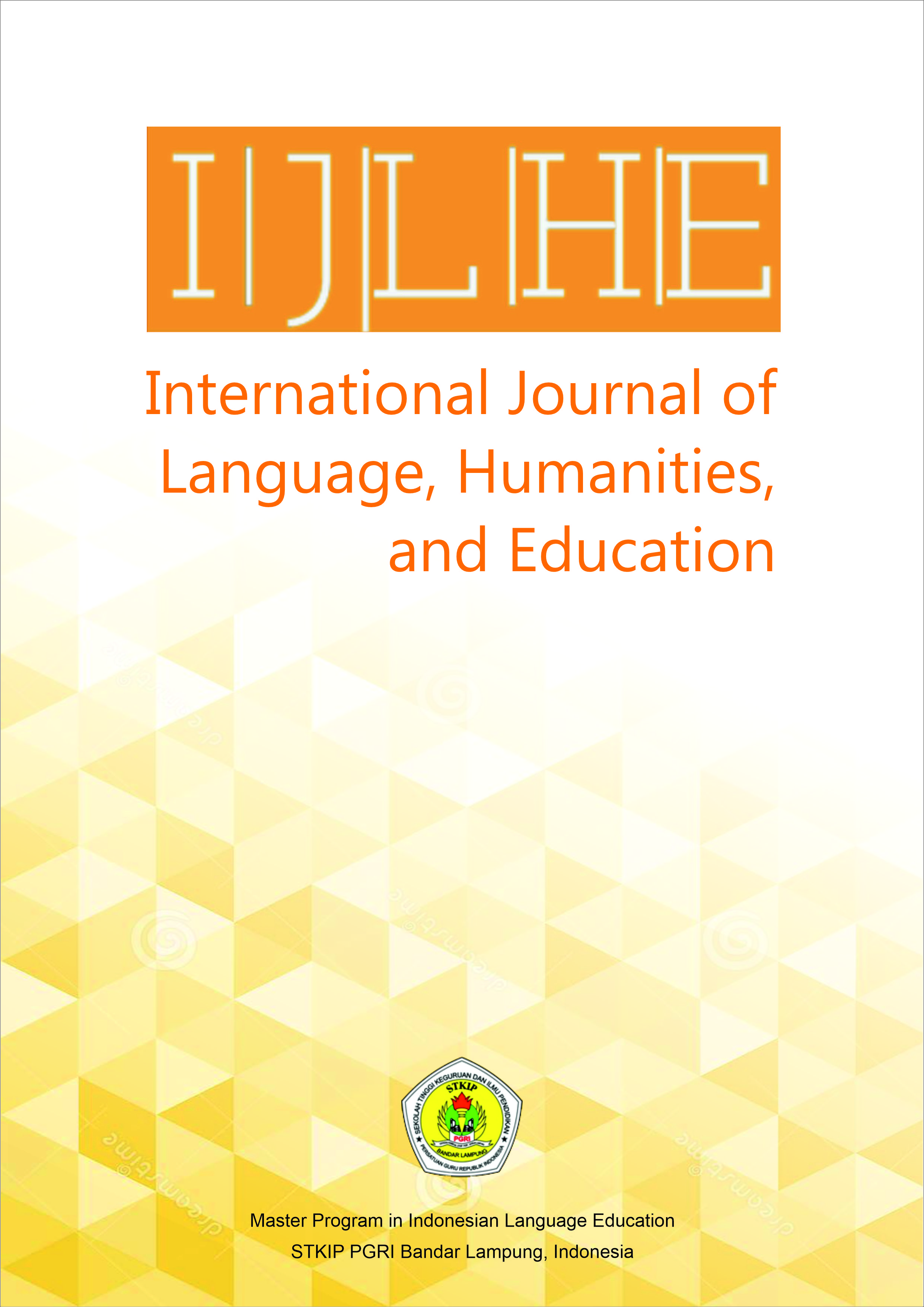 Downloads
How to Cite
Sutrisno, J. A., Sutiyono, A. ., & Efendi, Y. (2022). The Evaluation of The Curriculum 2013 Implementation Program for Indonesian Learning at SMPN 5 Pesawaran . IJLHE: International Journal of Language, Humanities, and Education, 5(2), 101–110. Retrieved from https://jurnal.stkippgribl.ac.id/index.php/ijlhe/article/view/992