The Use of PUEBI in Exposition Compositions in 5th Grade Students of SDN 2 Gunung Terang Bandar Lampung
Keywords:
PUEBI (General Guidelines for Spelling of Indonesian, spelling, essay, exposition
Abstract
The purpose of this study is to find out and describe the use of PUEBI and deviations from the use of PUEBI in students' exposition essays as well as the factors and constraints that cause deviations in the use of PUEBI in exposition essays for fifth grade students in the odd semester of SD Negeri 2 Gunung Terang Bandar Lampung. This study used descriptive qualitative method. This research was conducted on the fifth grade students of SD Negeri 2 Gunung Terang Bandar Lampung, with total 30 students. The results of this study explained that students were not fully said to be able to use PUEBI in writing expository essays. This is based on the data obtained which shows that PUEBI deviations are still commonly found in students' exposition essays. From the analysis carried out, it is known that the intensity of deviations that are most commonly found are deviations from the use of punctuation marks rather than deviations from the use of capital letters.
References
Arifin, Zaenal dan Tasai, Amran. (2010) Cermat Berbahasa Indonsia. Jakarta: Akapres.
Dalman. (2012). Keterampilan Menulis. Jakarta : PT Raja Grafindo Persada.
Finoza, Lamuddin.(2009). Komposisi Bahasa Indonesia. Jakarta: Intan Mulia.
Fahrurrozi and Wicaksono, Andri. (2016). Sekilas Tentang Bahasa Indonesia: Catatan mengenai kebijakan bahasa, kaidah Pembelajaran Sastra, Penerjemahan dan BIPA. Yogyakarta: Garudhawaca.
Gie, The Liang. (2002). Terampil Mengarang. Yogyakarta : ANDI.
Jauhari, H. (2009). Pedoman Penulisan Karya Ilmiah. Bandung: Pustaka Setia.
Keraf, Gorys. (1994). Komposisi. Ende, Flores: Nusa Indah.
Kosasih, E. (2003). Kompetensi Ketatabahasaan dan Kesusastraan. Bandung: Yrama Widya.
Nursalim A.R. (2011) Pengantar Kemampuan Berbahasa Indonesia Berbasis Kompetensi. (edisi revisi). Riau: Zanafa.
Surastina. (2018). Pengkajian Wacana: Sebuah Pengantar. Yogyakarta: Elmatera Publishing.
Tarigan, HG. (2011) Analisis Kesalahan Berbahasa. Bandung: Angkasa.
Waridah, Ernawati. (2009) PUEBI dan Seputar Kebahasaan Indonesia. Jakarta: Kawah Media.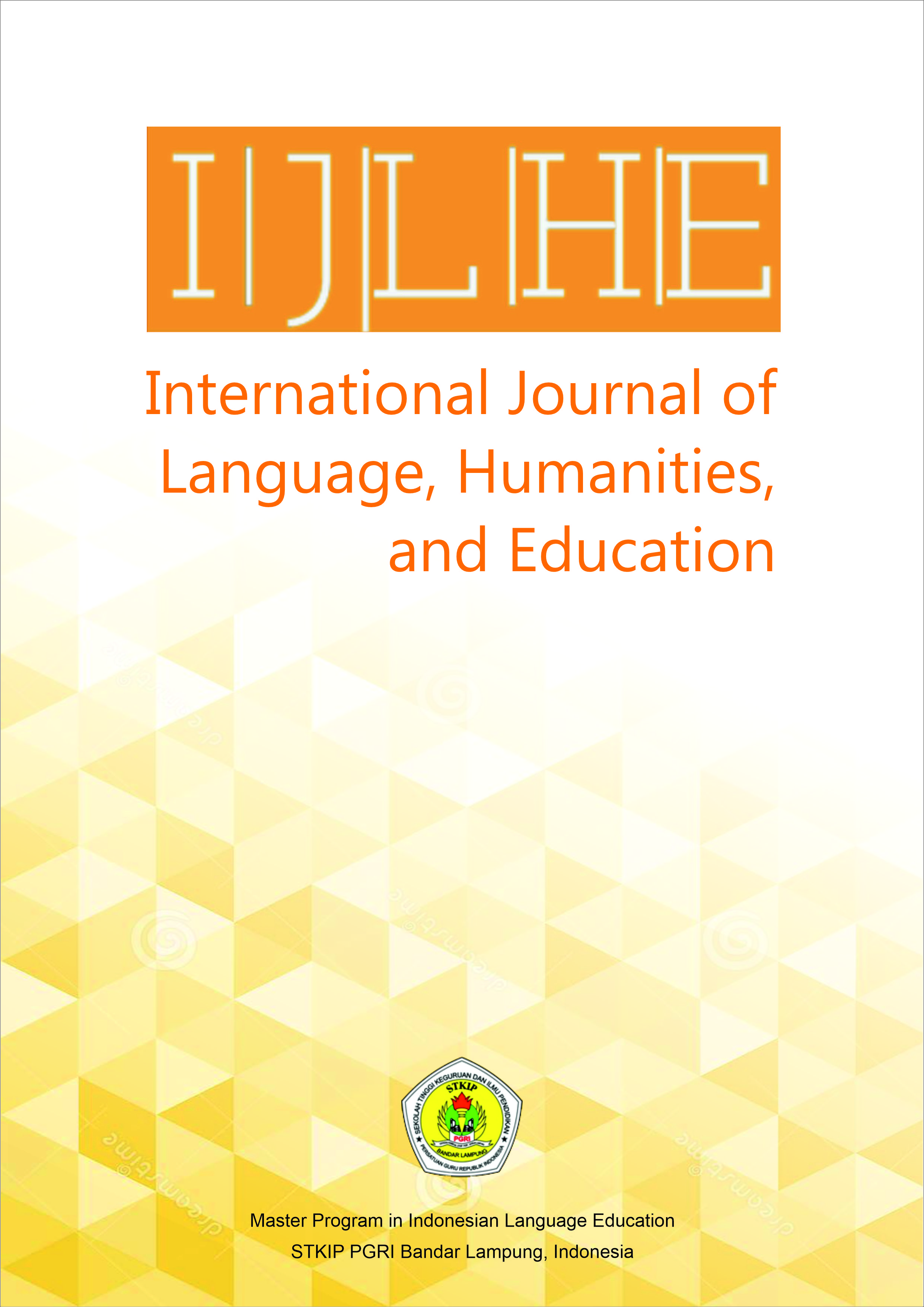 Downloads
How to Cite
Wicaksono, A., Singgih, M., Surastina, S., & Herlisya, D. . (2022). The Use of PUEBI in Exposition Compositions in 5th Grade Students of SDN 2 Gunung Terang Bandar Lampung . IJLHE: International Journal of Language, Humanities, and Education, 5(2), 111–118. Retrieved from https://jurnal.stkippgribl.ac.id/index.php/ijlhe/article/view/993