Kompetensi Jaga Mulut sebagai Peranti Komunikasi Interkultural
Keywords:
competence, mouth guard, mouth guard competence, communication, intercultural
Abstract
This article aims to explain the importance of mouth guard competence as an intercultural communication tool. In conditions of high interaction between people and increasing encounters with people from various cultural and linguistic backgrounds, communicators are required to have high language competence, which pragmatically is referred to as mouth guard competence. This competence guarantees intercultural communication. By using a qualitative descriptive approach, namely research that provides an accurate description of certain individuals or groups regarding the circumstances and symptoms that occur, the article puts forward four main points related to mouth guard competence as an intercultural communication tool, namely 1) the importance of having awareness of the transcendence of the language function of simply as a means of gossip, 2) the importance of elevating politeness maxims, 3) the importance of understanding communication events or utterances, and 4) awareness of language contact as a reality that requires language users not to be pretentious either towards their own language or toward other people's language. .
References
Bloomfield, Leonard. (1995). Language (Bahasa). Penerj. I Sutikno. Jakarta: Gramedia Pustaka Utama.
Brambilla, Simona. (2020). "Rahmat Inkulturalitas", https://dg.saveriani.org/en/comunicazioni/pubblicazioni/formazione/item/la-grazia-dell-interculturalita 2020.
Chaer, Abdul. (2000). Kesantuan Berbahasa. Jakarta: Renika Citpa.
Departemen Pendidikan Nasional. (2008). Kamus Besar Bahasa Indonesia Pusat Bahasa. Edisi Keempat. Jakarta: Gramedia Pustaka Utama.
Harari, Yuval Noah.m (2018). Homo Deus, Masa Depan Umat Manusia. Penerj. Yanto Musthofa. Jakarta: PT Pustaka Alvabet.
Harari, Yuval Noah. (2017). Homo Sapiens, Sejarah Ringkas Manusia dari Zaman Batu hingga Perkiraan Kepunahannya. Penerj. Yanto Mustova. Jakarta: PT Pustaka Alvabet.
Hymes, Dell Hathaway. (1974). Foundations in Sociolinguistics. Philadelphia: University of Pennsylavania Press.
Luthfia, Amia. (2014). "Pentingnya Kesadaran Antarbudaya dan Kompetensi Komunikasi Antarbudaya dalam Dunia Kerja Global", Humaniora, Vol.5 No.1, April 2014: 9-22.
Mantra, Ida Bagoes. (2008). Filsafat Penelitian dan Metode Penelitian Sosial. Yogyakarta: Pustaka Pelajar.
Moleong, Lexy J. (2006). Metode Penelitian Kualitatif. Bandung: Remaja Rosdakarya.
Orong, Yohanes. (2017). "Linguistik Umum". Bahan Kuliah, Institut Filsafat dan Teknologi Kreatif, Ledalero.
Osgood, Charles. (1980). Lectures on Language Performances. New York: Springer Verlag.
Rahardi, Kunjana. (2005). Pragmatik Kesantunan Imperatif Bahasa Indonesia. Jakarta: Erlangga.
Sembiring, Cornelius dan Suhardi. (2009). "Aspek Sosial Bahasa" dalam Kushartanti dkk. Pesona Bahasa, Langkah Awal Memahami Linguistik. Jakarta: Gramedia.
Sugiyono. (2010). Metode Penelitian Kuantitatif, Kualitatif, dan R & D. Bandung: Alfabeta.
Wahidy, Achmad. (2018). "Cerdas Dan Cermat Berbahasa Cermin Pribadi Bangsa Bermartabat", https://jurnal.univpgri.palembang.ac.id.
Young, Lynne & Fitzgerald, Brigid. (2006). The Power of Language: How Discourse Influences Society. London: Equinox Publishing Ltd.
Yule, George. (2015). Kajian Bahasa. Penerj. Astry Fajria. Yogyakarta: Pustaka Pelajar.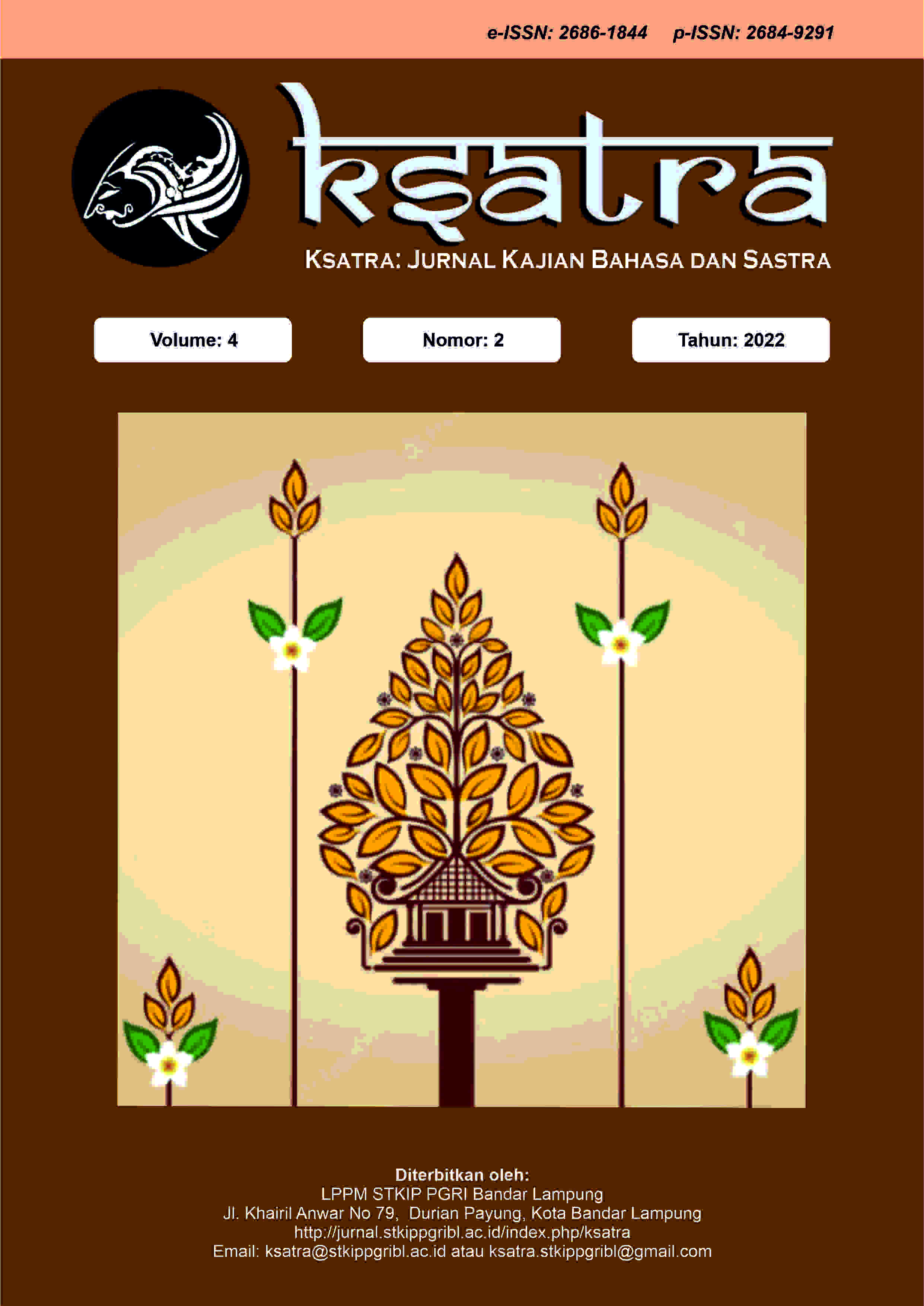 Downloads
How to Cite
Orong, Y. (2022). Kompetensi Jaga Mulut sebagai Peranti Komunikasi Interkultural. Ksatra: Jurnal Kajian Bahasa Dan Sastra, 4(2), 192–208. https://doi.org/10.52217/ksatra.v4i2.805