Peranan Pendidikan Olahraga dalam Meningkatkan Pembelajaran dan Pengembangan Mahasiswa melalui Aktivitas Fisik: Sebuah Kajian Literatur
Keywords:
sports education, learning, student development, physical activity, college curriculum.
Abstract
This journal discusses the importance of physical education in enhancing learning and development among college students through physical activities. By using literature review and related studies, the authors explore the main benefits of physical education as well as its implementation and influence on the learning experience of students in the college environment. Physical education has been proven to provide many benefits for the physical health of students. Regular physical activity can help improve fitness and heart health, reduce the risk of obesity, improve bone health, and increase immune system function. In addition to physical health benefits, physical education also shows benefits in developing social skills and academic performance among students. In the context of social skills, sports can help students build leadership skills, teamwork, communication, and self-confidence. Students who are involved in sports activities also tend to have stronger social networks and more opportunities to build beneficial interpersonal relationships. Furthermore, research has shown that students who are involved in sports tend to perform better academically. Sports can help improve focus and concentration, enhance critical thinking skills, and improve problem-solving abilities. Additionally, sports activities can help reduce stress and increase mental well-being, which can improve motivation and academic performance. The journal also discusses strategies and approaches that can be used to integrate physical education into the college curriculum. Some of these strategies include expanding sports programs, providing access to adequate sports facilities, and enhancing support and motivation for students involved in sports activities. In conclusion, this journal shows that physical education provides many benefits for college students. By integrating physical education into the curriculum, colleges can help improve the physical health, social skills, and academic performance of their students.
References
Arikunto, S. (2010). Prosedur Penelitian: Suatu Pendekatan Praktik (Edisi Revisi). Rineka Cipta.
Bandura, A. (1977). Social Learning Theory. Englewood Cliffs, NJ: Prentice-Hall.
Basuki, Sunarno. (2017). Partisipasi Mahasiswa Dalam Kegiatan Olahraga Dan Sarana Prasarana Pendukung Pada Universitas Lambung Mangkurat. Multilateral: Jurnal Pendidikan Jasmani Dan Olahraga, 16 (1)
Esi; Purwaningsih, Endang; Okianna. (2016). Peranan Guru Sebagai Fasilitator Dan Motivator Dalam Meningkatkan Hasil Belajar Di Kelas XI SMK. JPPK: Journal of Equatorial Education and Learning, Vol 5, No 10 (2016).
Fletcher, David & Hanton, S & Mellalieu, Stephen & Neil, Rich. (2012). A conceptual framework of organizational stressors in sport performers. Scandinavian Journal of Medicine and Science in Sports. 22. 545-557. 10.1111/j.1600-0838.2010.01242.x.
Indriharta, Lilik. (2019). Implementasi pendidikan karakter melalui olahraga bagi mahasiswa di perguruan tinggi. Prosiding Seminar Nasional Ilmu Keolahragaan UNIPMA.
Irwanto, Romas, Muslimah Zahro. (2019). Profil Peran Psikologi Olahraga Dalam Meningkatkan Prestasi Atlet di Serang-Banten Menuju Jawara. Prosiding Seminar Nasional IPTEK Olahraga, 2019, Fakultas Olahraga dan Kesehatan, Universitas PGRI Banyuwangi, ISSN 2622-0156
Ryan, R, M., & Deci, E.L.(2017). Self Determination Theory : Basic psychological Needs in Motivation, Development and Wellness. New York: Guilford Press.
Schmidt, R. A., & Wrisberg, C. A. (2008). Motor Learning and Performance A Situation-Based Learning Approach (4th ed.). Champaign, IL Human Kinetics.
Sukadiyanto. (2011). Implementasi Pendidikan Karakter dalam Pendidikan Jasmani dan Olahraga. Yogyakarta: UNY-Press.
Sugiyono. (2017). Metode penelitian kuantitatif, kualitatif, dan R&D. Bandung: Alfabeta.
Suherman, Wawan Sundawan, dkk. (2021). ANALISIS KURIKULUM SEBAGAI PRAKSIS PADA PENDIDIKAN JASMANI OLAHRAGA DAN KESEHATAN SEKOLAH MENENGAH PERTAMA KABUPATEN SLEMAN. LEMBAGA PENELITIAN DAN PENGABDIAN KEPADA MASYARAKAT, UNIVERSITAS NEGERI YOGYAKARTA TAHUN 2021
Yoda, I Ketut. (2020). Peran Olahraga Dalam Membangun Sdm Unggul Di Era Revolusi. Jurnal IKA Vol. 18, No. 1, Maret 2020, ISSN 1829-5282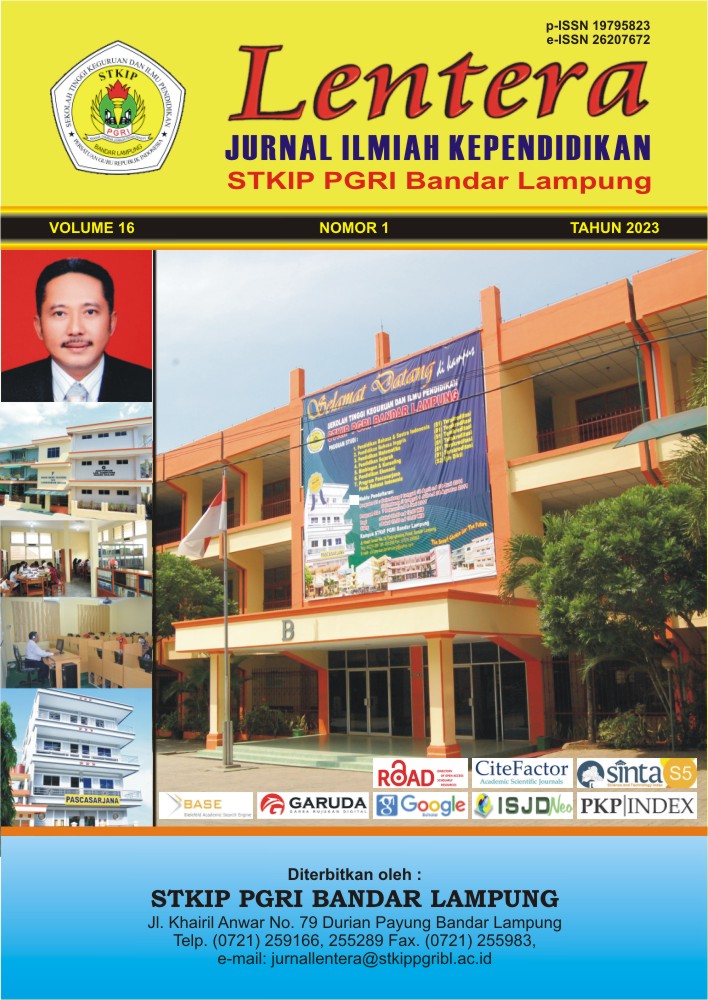 Downloads
How to Cite
Anindito, F., & Nabillah, A. A. . (2023). Peranan Pendidikan Olahraga dalam Meningkatkan Pembelajaran dan Pengembangan Mahasiswa melalui Aktivitas Fisik: Sebuah Kajian Literatur. Lentera: Jurnal Ilmiah Kependidikan, 16(1), 171–180. https://doi.org/10.52217/lentera.v16i1.1174
License
Copyright (c) 2023 Filardi Anindito, Azry Ayu Nabillah
This work is licensed under a Creative Commons Attribution-NonCommercial 4.0 International License.