Hubungan Kebiasaan Belajar dengan Hasil Belajar Matematika Peserta Didik Kelas V Sekolah Dasar
Keywords:
study habits, matchematics learning outcomes
Abstract
The problem in this research is the low mathematics learning outcomes of students. The purpose of this study was to determine a significant relationship between study habits with mathematics learning outcomes for grade V students at SDNegeri 4 Sumberejo in the academic year 2021/2022. This type of research is quantitative with ex-post facto correlation method. The population of this study was 55 students and sampling using a saturated sample technique. Data collection techniques used were questionnaire and documentation. Analysis of the data used is the product moment correlation and obtained a correlation of0,43 with contribution of 18,4% with moderate criteria. There is a significant relationship between learning independence and mathe matematics learning students outcomes for grade V students at SD Negeri 4 Sumberejo in the academic year 2021/2022.
References
Azis, H., & Sembiring, Y. S. 2020.Hubungan Kebiasaan Belajar Dengan Hasil Belajar IPA. Jurnal Curere, 4(2), 10.
Bentil, J., Esia-Donkoh, K., & Ghanney, R. A. 2018.Study Habits of Students: Keys to Good Academic Performance In Public Junior High Schools In The Ekumfi District Of GhanaInternational Journal of Quantitative and Qualitative Research Methods, 6 (3), 10-23.
Permendikbud2016.Kompetensi Inti dan Kompetensi Lulusan Pendidikan Dasar dan Menengah.Indonesia, Republik Indonesia.
Prayitno dan Amti. 2013. Dasar-Dasar Bimbingan dan Konseling. Jakarta : PT Rineka Cipta.
Rahmah, N. (2013). Hakikat pendidikan matematika. J Al-Khwarizmi: Jurnal Pendidikan Matematika dan Ilmu Pengetahuan Alam, 1(2), 1-10.
Setiawan, A. 2020.Hubungan Kebiasaan Belajar Dan Disiplin Belajar Dengan Hasil Belajar IPS. Joyful Learning Journal, 9(1), 12-16.
Sugiyono.2015. Metode Penelitian Pendidikan Pendekatan Kuantitatif, Kualitatif, dan R&D. Bandung: Alfabeta.
Yanto dan Ruhendra. 2015. Hubungan Antara Kecerdasan Linguistik dan Motivasi Belajar dengan Hasil Belajar Bahasa Indonesia Siswa Kelas VI di SDN Cihideung Ilir 04 Kecamatan Ciampela. Jurnal Teknologi Pendidikan. 4(2).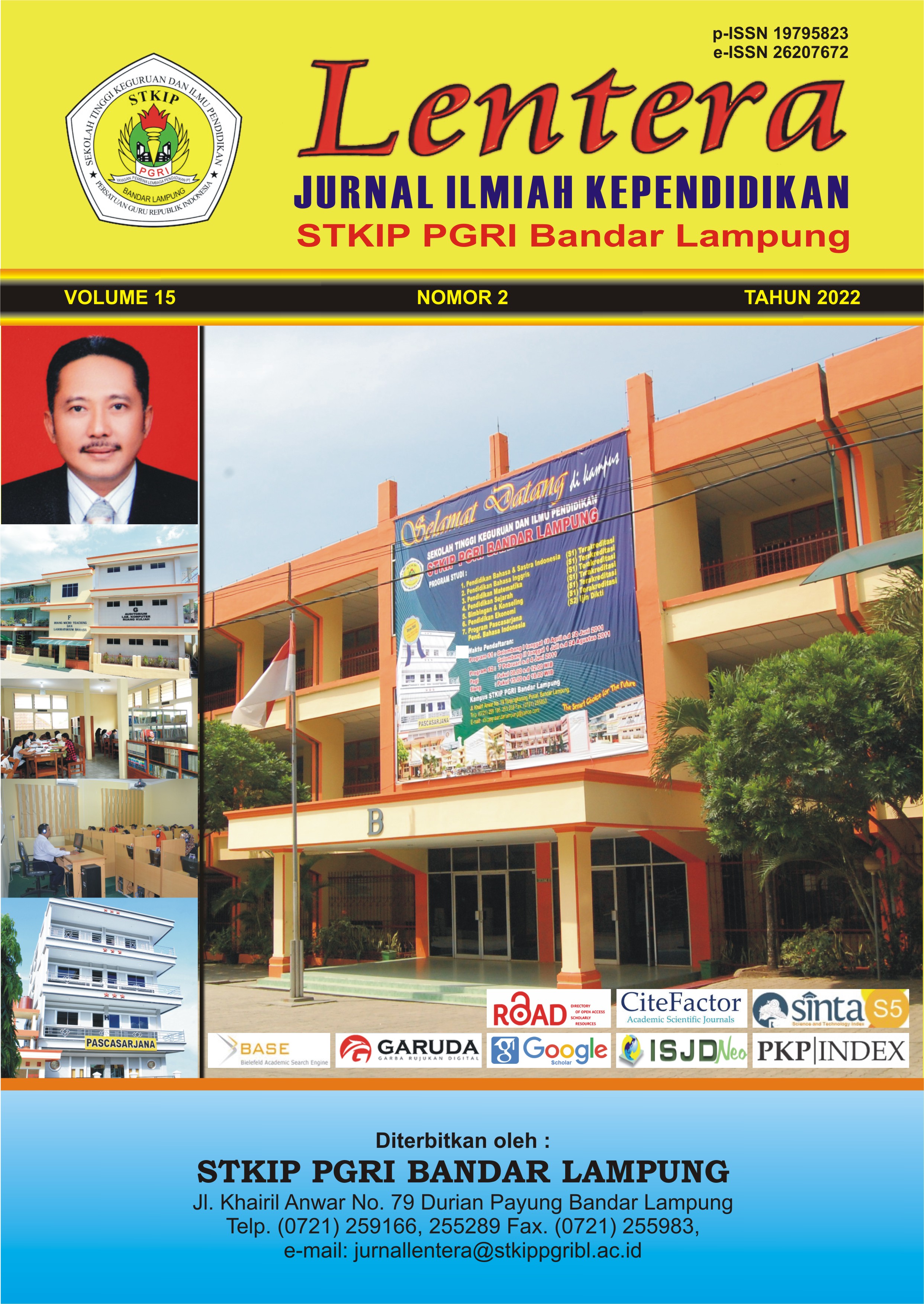 Downloads
How to Cite
Pangestu, D. ., Lestari, Y. D. ., Surahman, M. ., & Juwantara, R. A. . (2022). Hubungan Kebiasaan Belajar dengan Hasil Belajar Matematika Peserta Didik Kelas V Sekolah Dasar. Lentera: Jurnal Ilmiah Kependidikan, 15(2), 383–388. https://doi.org/10.52217/lentera.v15i2.842