An Analysys of Students' Inference Skill toward Students' Reading Comprehension
Keywords:
English Language Teaching, inference, reading comprehension
Abstract
The study of inference skill concerned with infer the message from the text which is written by the author. Studying on inference always faced the different text. Inference skill was occurred in some levels. These levels were very important to keep the meaning of the text to avoid the awkwardness. This research was aimed to find how was the student's inference skill in reading comprehension at the sixth semester done by the students of English education study program in Universitas Nahdlatul Ulama Lampung. The characteristic of this research was qualitative research by applying Miles and Huberman models; namely collecting data, data reduction, data display and drawing conclusion. The result of the students' inference skill in reading comprehension was done by the students of English Study Program Universitas Nahdlatul Ulama Lampung, in coherence inference, there were ten percent of students making error in this level.
References
Brown, H. Douglas. 2001. Teaching By Principles. An Interactive Approach To Language Pedagogy, Second Edition. San Fransisco University;Pearson Education Company.
Duffy, Gerald G. 2009. Explaining Reading, A Resource For Teaching Concept, Skills And Strategies, Second Edition. London: The Guilford Press.
Floris, Flora Deborah, Maria Natalia D. Maer , Meedy Nugraha. 2007. Success In Academic English : English For General Academic Purposes. Yogyakarta, Graham Ilmu.
Kispal Anne. 2008. Effective Teaching Of Inference Skills For Reading ,Literature Review. National Foundation For Educational Reseach.
Klingner, Janette K. ,Sharon Vaughn,Alison BoardmanKaren. R.harris and steve graham,series editor. 2007. Teaching Reading Comprehension To Students With Learning Difficulties. Newyork, the Guildford Press.
Lems, Kristin,Leah D. Miller, Tenena M. Sorro. Teaching Reading To English Language, Insight From Linguistics. Newyork: The Guiltford
Otong Setiawan Djuhairie. 2008. Extensive Reading, Teknik Dan Panduan Membaca Text Book. Bandung, Yrama Widya.
Sanggam Siahaan. 2008. The English Paragraph. Graha Ilmu.
Sugiyono, 2009. Metode Penelitian Kuantitatif Dan R&D; Bandung Alfabeta
Suharsimi Arikunto , 2003. Prosedur Penelitian Pendidikan, Jakarta: Bumi Aksara.
Willis, Judy. 2008. Teaching the brain to read : strategies for improving fluency, vocabulary, and comprehension. Alexandria, Association for Supervision and Curriculum Development.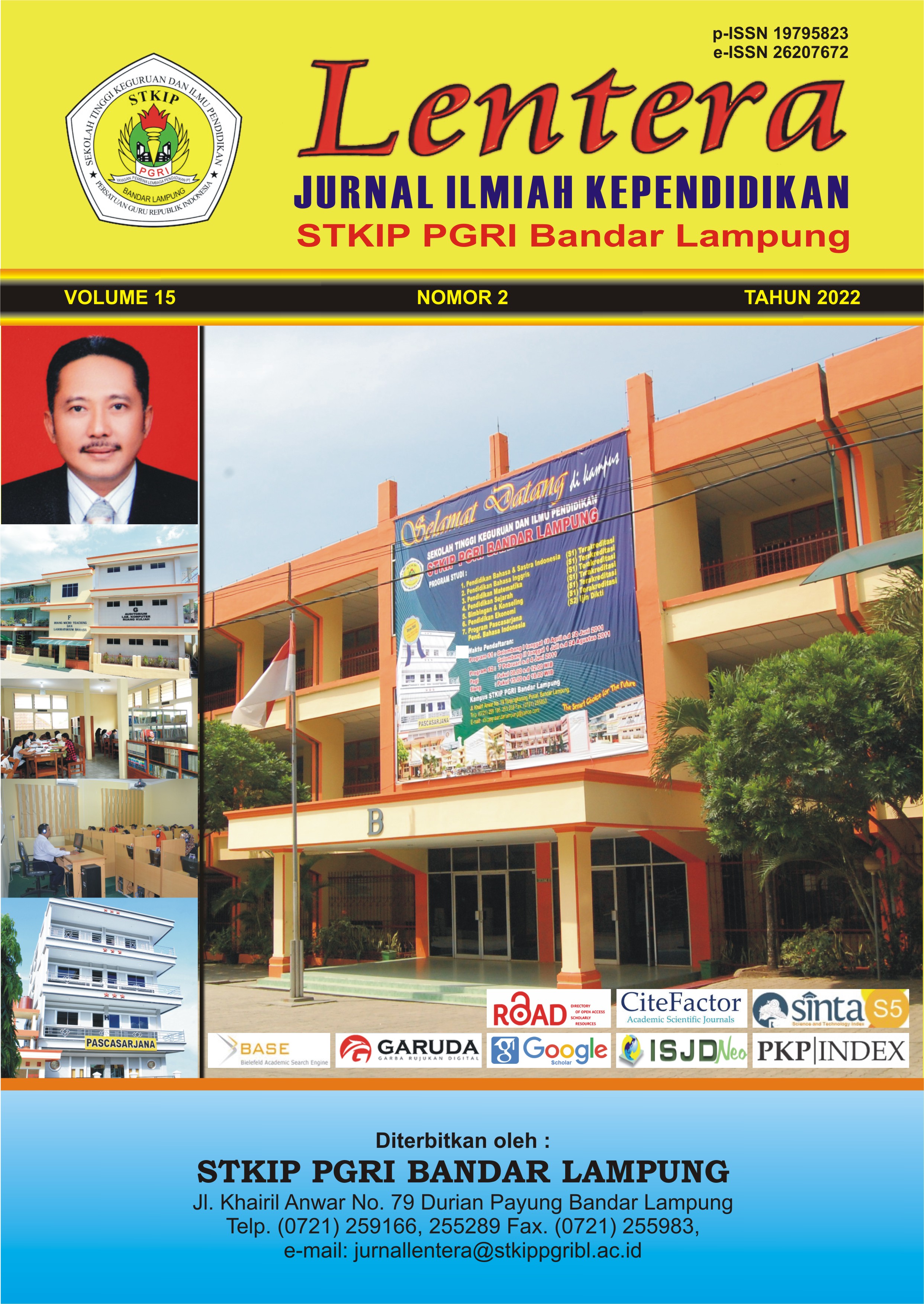 Downloads
How to Cite
Supatmi, R. ., & Wiratno, P. . (2022). An Analysys of Students' Inference Skill toward Students' Reading Comprehension. Lentera: Jurnal Ilmiah Kependidikan, 15(2), 415–426. https://doi.org/10.52217/lentera.v15i2.852