Penggunaan Konstruksi Metakognitif dalam E-Modul terhadap Pembelajaran Bahasa Indonesia
Keywords:
blended learning, metacognitive, Indonesian language
Abstract
Self-study awareness is an aspect that students must have in blended learning. This study discusses the effectiveness of the construction of metacognitive skills in e-modules on student achievement independently where the learning method used is blended learning. The researcher used pre-test and post-test with a control group as the quasi-experimental design used in this study. There are two classes of Indonesian language courses as the research population, and both classes are from the Sharia Faculty, UIN Raden Intan Lampung. Before collecting research data, the researcher tested the research instrument with reliability and validity tests. Meanwhile, the treatment effectiveness test can be carried out if the research data obtained has met the criteria for normality and homogeneity. However, the researcher decided to carry out the Mann-Whitney Test because the data obtained did not have a normal distribution as a prerequisite for research analysis. The findings show that there is a difference in the mean of student learning outcomes from the experimental class and the control class. This study states that there is an increase in the pretest and posttest scores of the experimental class which is greater than the control class based on the improvement in the index on the average criterion. On the other hand, the use of metacognitive construction gave a positive response to some students so that it affected the awareness of students to learn independently, and creatively, think critically, and have self-efficacy.
References
Bachri, S., Irawan, L. Y., & Aliman, M. (2021). E-Module in Blended Learning: Its Impact on Students' Disaster Preparedness and Innovation in Developing Learning Media. International Journal of Instruction, 14(4), 187-208.
Choi, E., Lindquist, R., & Song, Y. (2014). Effects of problem-based learning vs. traditional lecture on Korean nursing students' critical thinking, problem-solving, and self-directed learning. Nurse education today, 34(1), 52-56
Diana, P. Z. (2021). Pengembangan E-Modul Mata Kuliah Pembelajaran Bahasa Indonesia. Alinea: Jurnal Bahasa, Sastra, dan Pengajaran, 10(2), 153-160.
Fitriani, F., & Indriaturrahmi, I. (2020). Pengembangan e-modul sebagai Sumber Belajar Mata Pelajaran Bahasa Indonesia Kelas X MAN 1 Lombok Tengah. Jurnal Penelitian Dan Pengkajian Ilmu Pendidikan: E-Saintika, 4(1), 16-25.
Hargrove, R. A., & Nietfeld, J. L. (2015). The impact of metacognitive instruction on creative problem solving. The Journal of Experimental Education, 83(3), 291-318.
Haryani, S., Wijayati, N., & Kurniawan, C. (2018, March). Improvement of metacognitive skills and students' reasoning ability through problem-based learning. In Journal of Physics: Conference Series (Vol. 983, No. 1, p. 012174). IOP Publishing.
Henderson, M., Selwyn, N., & Aston, R. (2017). What works and why? Student perceptions of 'useful'digital technology in university teaching and learning. Studies in higher education, 42(8), 1567-1579.
Marizal, Y., & Asri, Y. (2022). Pengembangan Modul Elektronik Berbantuan Aplikasi Flipping Book PDF Professional Pembelajaran Menulis Teks Eksplanasi. Diglosia: Jurnal Kajian Bahasa, Sastra, dan Pengajarannya, 5(1), 135-152.
Mulhayatiah, D., Purwanti, P., Setya, W., Suhendi, H. Y., Kariadinata, R., & Hartini, S. (2019). The impact of digital learning module in improving students' problem-solving skills. Jurnal ilmiah pendidikan fisika Al-Biruni, 8(1), 11-22.
Plass, J. L., & Kaplan, U. (2016). Emotional design in digital media for learning. In Emotions, technology, design, and learning (pp. 131-161). Academic Press.
Rombot, O., Boeriswati, E., & Suparman, M. A. (2020). Improving reading comprehension skills of international elementary school students through blended learning. Al Ibtida: Jurnal Pendidikan Guru MI, 7(1), 56-68.
Siah, C. J., Lim, F. P., Lau, S. T., & Tam, W. (2021). The use of the community of inquiry survey in blended learning pedagogy for a clinical skill‐based module. Journal of Clinical Nursing, 30(3-4), 454-465.
Warren, L., Reilly, D., Herdan, A., & Lin, Y. (2020). Self-efficacy, performance and the role of blended learning. Journal of Applied Research in Higher Education.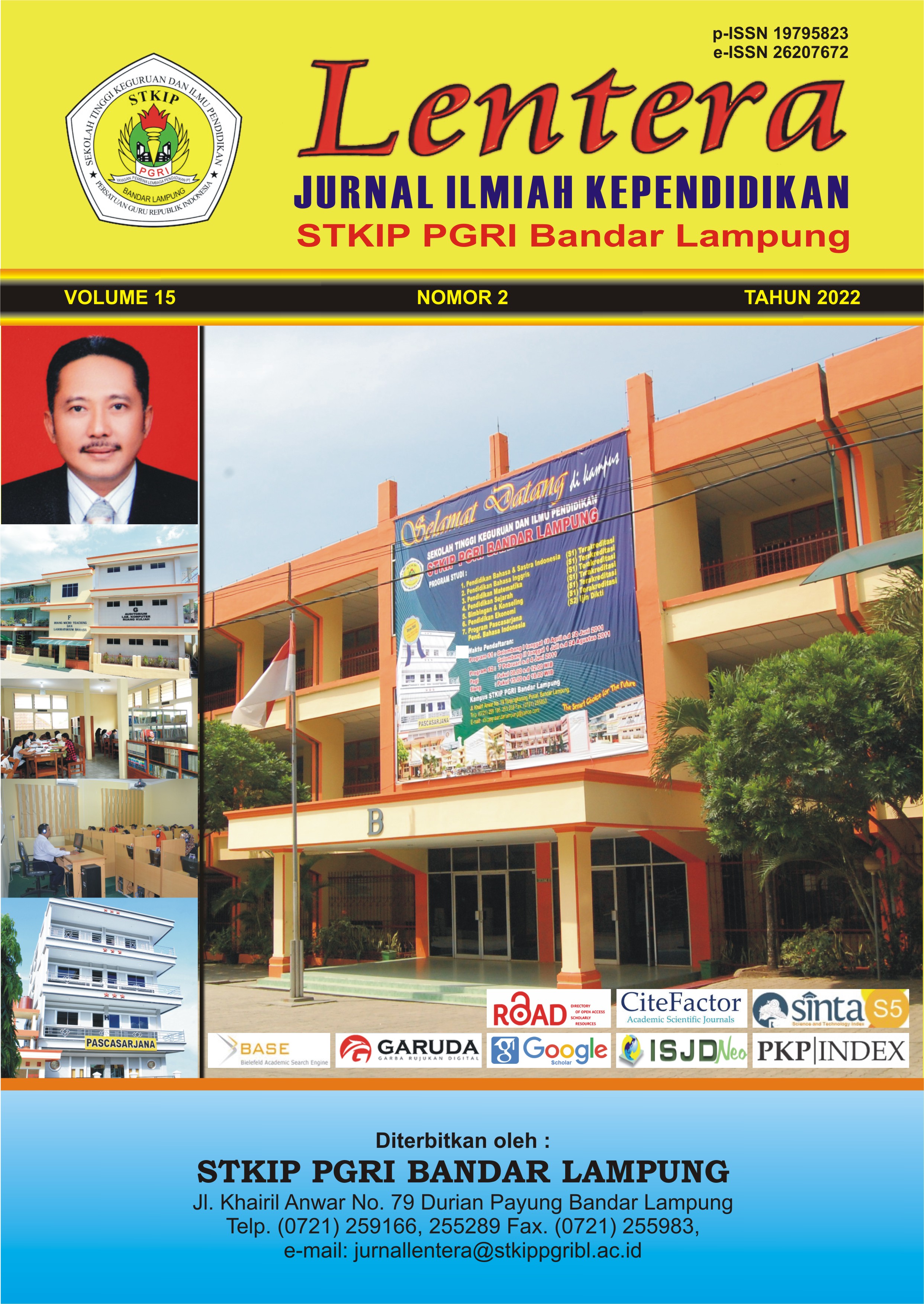 Downloads
How to Cite
Hasanah, U. (2022). Penggunaan Konstruksi Metakognitif dalam E-Modul terhadap Pembelajaran Bahasa Indonesia . Lentera: Jurnal Ilmiah Kependidikan, 15(2), 473–482. Retrieved from https://jurnal.stkippgribl.ac.id/index.php/lentera/article/view/899