Upaya Meningkatkan Kemampuan Profesionalisme Guru dalam Melaksanakan Pembelajaran melalui Supervisi Akademik SMA Negeri 3 Metro
Keywords:
academic supervision, teacher professionalism
Abstract
This study aims to improve the professionalism of teachers in learning through academic supervision. Analysis of technical action data in academic supervision was analyzed descriptively comparatively, by comparing the data in the initial conditions, cycle 1, cycle 2 and cycle 3. Tools and data collection by observation, interviews,. The method used is observation, documentation, and ongoing guidance. Results and discussion of improving academic supervision in improving teacher professionalism. The pre-cycle pedagogical ability totaled 396.9 (65.98%), in the first cycle it increased to 462.5 (77.08%), the second cycle got an average score of 83.32%, and the third cycle got an average score 97.92%. The teacher's professional ability in the first cycle was 68% on average, the second cycle was 91.68% on average, and the third cycle increased to 125.69%.
References
Akhyar Lubis,Syaiful. (2006), Dasar-Dasar Kependidikan, Bandung: Citapistaka Media,
Anggoro, M. Toha, 2008. Metode Penelitian. Jakarta: Universitas Terbuka
Asmani, Jamal Ma'ruf, 2012. Tips Efektif Supervisi Pendidikan Sekolah, Yogyakarta: DIVA Press
Arifin,Mohammad dan Barnawi, 2014. Meningkatkan Kinerja Pengawas
Sekolah: Upaya Upgrade Kapasitas Kerja Pengawas Sekolah, Yogyakarta: Ar-Ruzz Media.
Annurahman, 2016. Belajar dan Pembelajaran. Bandung: Alfabeta
Depdiknas, 2003. Kompetensi Guru. Jakarta: Direktorat Tendik
Depdiknas . 2005. Undang-undang Nomor 14 Tahun 2005 Tentang Guru dan Dosen. Jakarta: Depdikbud.
Depdiknas . 2008.Metode dan Teknik Supervisi. Jakarta: Dekpdiknas.,
Kunandar. 2007. Guru Profesional: Implementasi Kurikulum Tingkat Satuan
Pendidikan dan sukses dalam sertifikasi. Jakarta: Raja Grafindo Persada
Majid, Abdul. 2005. Perencanaan Pembelajaran: Mengembangkan Standar
Kompetensi Guru. Bandung: Remaja Rosdakarya
Mulyasa. 2007. Menjadi Guru Profesional : Menciptakan Pembelajaran Kreatif dan Menyenangkan. Bandung : Remaja Rosdakarya
Mulyasa. (2012), Manajemen dan Kepemimpinan Kepala Sekolah, Jakarta: PT Bumi Aksara
Nuris, Dudung Ma'ruf. 2010. Pengaruh Kompetensi Guru Akuntansi dan
Pemanfaatan Media Pembelajaran terhadap Prestasi Siswa. Surabaya: Poltekbang.
Sukmadinata, Nana Syaodih,2005. Metode Penelitian Pendidikan. Bandung: Rosda Karya
Saud,Udin Syaefudin, 2010. Pengembangan Profesi Guru. Jakarta: Alfabeta
Suryosubroto,B. 2010. Proses Belajar Mengajar di Sekolah. Jakarta: Rineka Cipta
Suprihatiningrum, 2014. Strategi Pembelajaran. Yogyakarta: Ar-Ruzz Media
Uno, Hamzah. 2007. Model Pembelajaran: Menciptakan Proses Belajar Mengajar yang Kreatif dan Efektif. Jakarta: Bumi Aksara
Wirahadi. Kriteria untuk Menjadi Guru Profesional. https://wirahadie.com/kriteria-untuk-menjadi-guru-profesional/diakses tanggal 15 Juli 2018.
Winaryati Eni. (2014), Evaluasi Supervisi Pembelajara. Jakarta: Graha Ilmu
Wau,Yasaratodo. (2017), Profesi Kependidikan, Medan: Gedung Lembaga Penelitian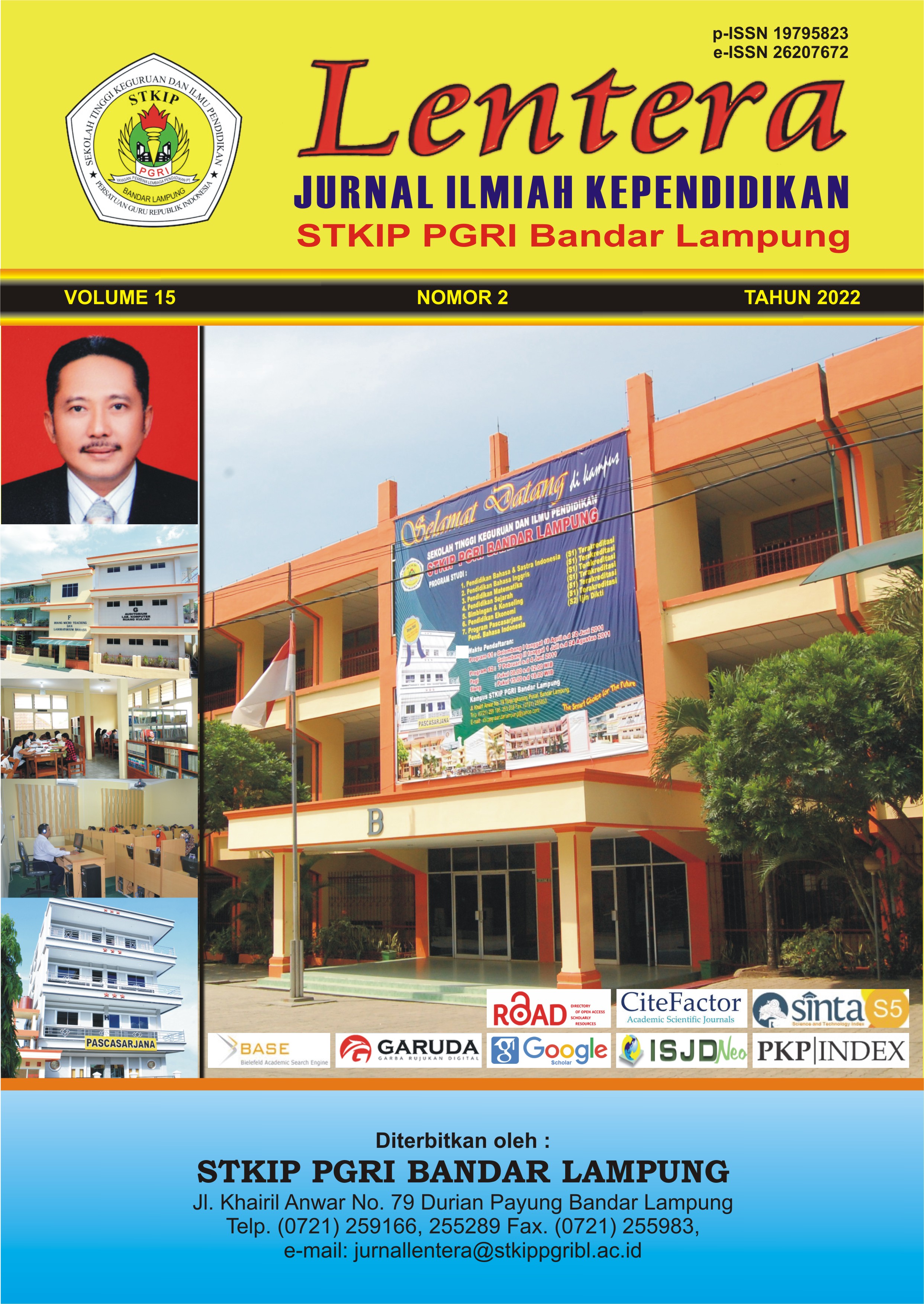 Downloads
How to Cite
Cahyana, I. B. (2022). Upaya Meningkatkan Kemampuan Profesionalisme Guru dalam Melaksanakan Pembelajaran melalui Supervisi Akademik SMA Negeri 3 Metro . Lentera: Jurnal Ilmiah Kependidikan, 15(2), 515–528. Retrieved from https://jurnal.stkippgribl.ac.id/index.php/lentera/article/view/902
License
Copyright (c) 2022 Ibnu Bud Cahyana
This work is licensed under a Creative Commons Attribution-NonCommercial 4.0 International License.