Efektivitas Penerapan Literasi Digital terhadap Kecakapan Literasi Siswa Kelas IV SDIT As Salam Tahun Pelajaran 2022/2023
Keywords:
Literasi, Digital, Kecakapan, Kuantitatif, Korelasi
Abstract
Literacy skills are one of the skills required in the 21st century. This is the background for researchers to see the effectiveness of applying digital literacy to students. The method used in this research is quantitative with a correlation approach. The population in the study were fourth grade students of SDIT As Salam Kampung Simpur Cikarang Selatan, and the research sample amounted to 41 students. Based on the results of data processing, the correlation coefficient between digital literacy and literacy skills is 0.527, meaning that there is a significant correlation between digital literacy and literacy skills. The R2 value is 0.259 which means it shows the contribution of digital literacy variance to the variance of literacy skills by 25.9%.
References
Ahmadi, Farid., Hamidulloh Ibda. (2018). Media Literasi Sekolah (Teori dan Praktik). Semarang : CV Pilar Nusantara.
Bhatt, I., (2012). Digital Literacy Practices And Their Layered Multiplicity. Educational Media International, 49 (4), 289-301.
Budiharto, Triyono, Suparman. (2018). LITERASI SEKOLAH SEBAGAI UPAYA PENCIPTAAN MASYARAKAT PEBELAJAR YANG BERDAMPAK PADA PENINGKATAN KUALITAS PENDIDIKAN. Seuneubok Lada: Jurnal Ilmu-ilmu Sejarah, Sosial, Budaya dan Kependidikan, 5(1), 2018: 153-166
Daniar, Ajeng Rahmawati & Rosdiana, Weni. (2021). Implementasi Gerakan Literasi Sekolah di Sekolah Dasar Negeri Sedati Gede 2 Sedati Kabupaten Sidoarjo. Publika. Volume 9 Nomor 1 Tahun 2021, 25-36
Day, V.M., & Qodariah, S. (2018). MENUMBUHKAN LITERASI DIGITAL PADA ANAK USIA SEKOLAH 6-12 TAHUN. INCREASING DIGITAL LITERATION ON 6-12 YEARS OLD SCHOOL-AGE CHILDREN.
Ghozali, Imam. (2018). Aplikasi Analisis Multivariate dengan Program IBM SPSS. 25. Semarang: Badan Penerbit Universitas Diponegoro.
Martin, A. (2006). Literacies for the digital age: preview of part 1. In Martin, A., & Madigan, D., (Ed.). Digital literacies learning. (h. 3-25). London: Facet Publishing.
Maulana, Murad. (2015). Definisi, Manfaat, dan Elemen Penting Literasi Digital. (Diunduh tanggal 15 Oktober 2016, pukul 14.00 WIB), http://www.muradmaulana.com/-2015/12/definisi-manfaat-dan-elemenpenting-literasi-digital.html
Nurchasanah., & Sunaryo, H. S. (2016). Perangkat Perkuliahan Pembelajaran Literasi Berbasis E-Learning. Jurnal Bahasa dan Seni, 44(2), 224–240.
Purwati, S. (2018). Program Literasi Membaca 15 Menit Sebelum Pelajaran Dimulai Untuk Meningkatkan Hasil Belajar Membaca Dan Menghafal Surah Pendek. Suara Guru, 4(1), 173–187.
Sugiyono. (2018). Metode Penelitian Kuantitatif Kualitatif Dan R&D. Bandung: PT Alfabet.
Sutrisna, Putu Gede. (2020). GERAKAN LITERASI DIGITAL PADA MASA PANDEMI COVID-19. Stilistika, Volume 8, Nomor 2, Mei 2020.
Teale, William H, Sulzby, Elizabeth. (1986). Emergent Literacy:Writing and. Reading. Minnesota: Ablex Publication Corp. University of Minnesota.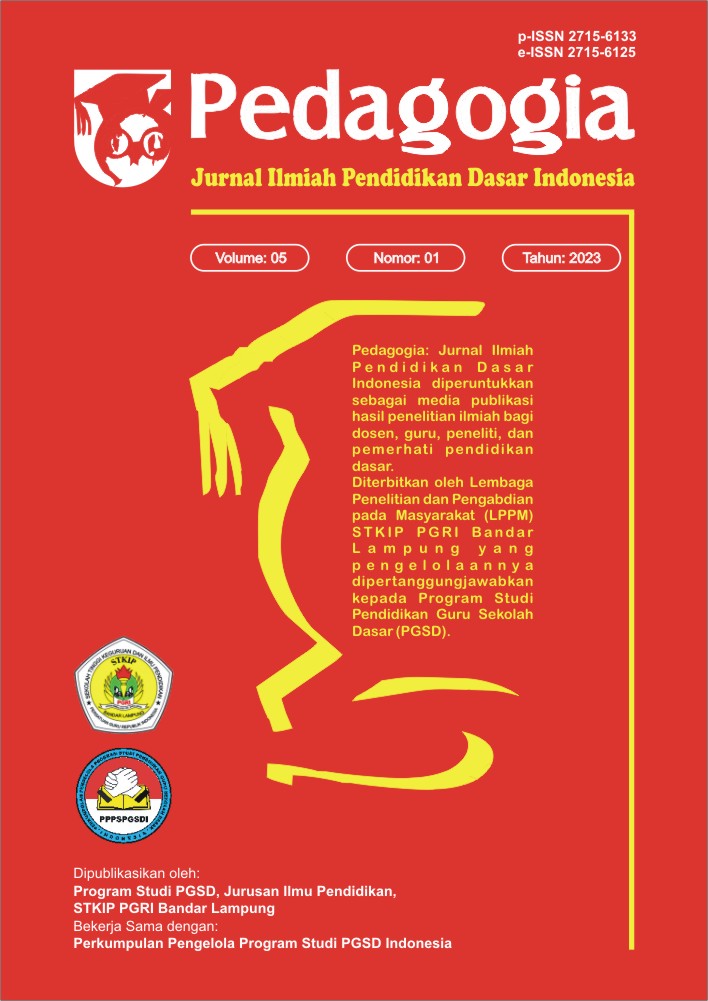 Downloads
How to Cite
Nurpadilah, D., & Mukhlis, S. . (2023). Efektivitas Penerapan Literasi Digital terhadap Kecakapan Literasi Siswa Kelas IV SDIT As Salam Tahun Pelajaran 2022/2023. Pedagogia: Jurnal Ilmiah Pendidikan Dasar Indonesia, 5(1), 31–42. https://doi.org/10.52217/pedagogia.v5i1.1202
License
Copyright (c) 2023 Deti Nurpadilah, Septian Mukhlis
This work is licensed under a Creative Commons Attribution 4.0 International License.