PENINGKATAN KEMAMPUAN GURU MENGGUNAKAN MEDIA PEMBELAJARAN MELALUI PENDAMPINGAN BERBASIS BIMBINGAN INDIVIDU DI SDN 2 KOTABARU
Keywords:
teacher ability, learning media, mentoring based on individual guidance
Abstract
The ability and skills of teachers to carry out their duties using learning media are very necessary. The purpose of the study was to describe and obtain information on efforts to improve the ability of teachers to use learning media through individual guidance-based mentoring. The research procedure includes planning, action, observation and reflection. The results of the first cycle of teacher activity observations, A score of 33.33%; B 66.67%; and C 0.00%, the ability of teachers to prepare learning media on average 90.00; carry out learning an average of 83.63; cycle 2 observation of teacher activity category A 56.67%; B 43.33%; and C 0.00%, the ability of teachers to make learning media 88.89; using learning media 85,17.
References
Amini. 2013. Profesi Keguruan. Medan: Perdana Publishing
Arief S Sardiman, dkk. 2003. Media pendidikan. Jakarta: Rajawali Pers.
Arsyad,Azhar.2011. Media Pembelajaran. Jakarta: PT Raja GrafindoPersada
Cece Wijaya. 1991. Kemampuan Dasar Guru dalam Proses Belajar Mengajar, Bandung: Remaja Rosdakarya
Dina Indriana. 2011. Ragam Alat Bantu Media Pengajaran. Jogjakarta: Diva Perss.
Hoetomo. 2005. Kamus Lengkap Bahasa Indonesia. Surabaya: PT. Mitra Pelajar
Kartini Kartono dan Dali Dula. 1987. Kamus Psikologi Pendidikan. Bandung: CV. Pionerjaya
Kunandar. 2008. Guru Profesional Implementasi KTSP dan Sukses dalam Sertifikasi Guru, Jakarta: Grafindo Persada
Uno. Hamzah B. 2012. Model Pembelajaran Menciptakan Proses Belajar Mengajar yang Kreatif dan efektif. Jakarta: Bumi Aksara.
Usman, Moh Uzer dan Lilis Setiawati. (2001). Upaya Optimalisasi Kegiatan Belajar Mengajar. Bandung: Remaja Rosdakarya.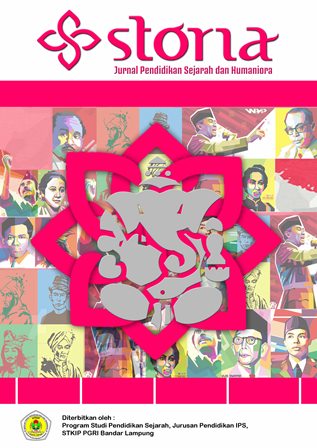 Downloads
How to Cite
Harwati, D. (2022). PENINGKATAN KEMAMPUAN GURU MENGGUNAKAN MEDIA PEMBELAJARAN MELALUI PENDAMPINGAN BERBASIS BIMBINGAN INDIVIDU DI SDN 2 KOTABARU. Storia: Jurnal Pendidikan Sejarah Dan Humaniora, 3(2), 53–60. Retrieved from https://jurnal.stkippgribl.ac.id/index.php/storia/article/view/933