PENGEMBANGAN LEMBAR KERJA PESERTA DIDIK (LKPD) PADA MATERI SEGITIGA DAN SEGIEMPAT DENGAN PENDEKATAN MATEMATIKA REALISTIK INDONESIA (PMRI)
Abstract
Abstract: The research aims to (1) produce LKPD products using the Indonesian Realistic Mathematics (PMRI) approach to grade VII (2) improving the math learning outcomes of grade VII students using LKPD with the Indonesian Realistic Mathematics Approach (PMRI). This type of research is development research. The stages in the research are analysis, design, development, implementation, and evaluation. Product validation is carried out by 6 expert lecturers in accordance with the field Then LKPD is given a practical questionnaire to be responded to by students of grade VII SMP Advent Bandar Lampung in LKPD product trials. The material expert validation results in the aspect of material suitability with KD, material accuracy, image accuracy,
material order, and aspects of PMRI characteristics all obtained a value of 4 with valid criteria. Validation of media experts in both the aspect of the cover design and the content design obtained a value of 3 with fairly valid criteria. Validation of language experts on aspects of sentence structure accuracy, understanding of messages and information obtains a value of 4 with valid criteria. After using LKPD that has been developed students experienced improved math learning results from 13% to 76%. Thus the Triangular and Rectangular LKPD with PMRI approach to class VII deserves to be used as a teaching material.
Keywords: development, lkpd, pmri.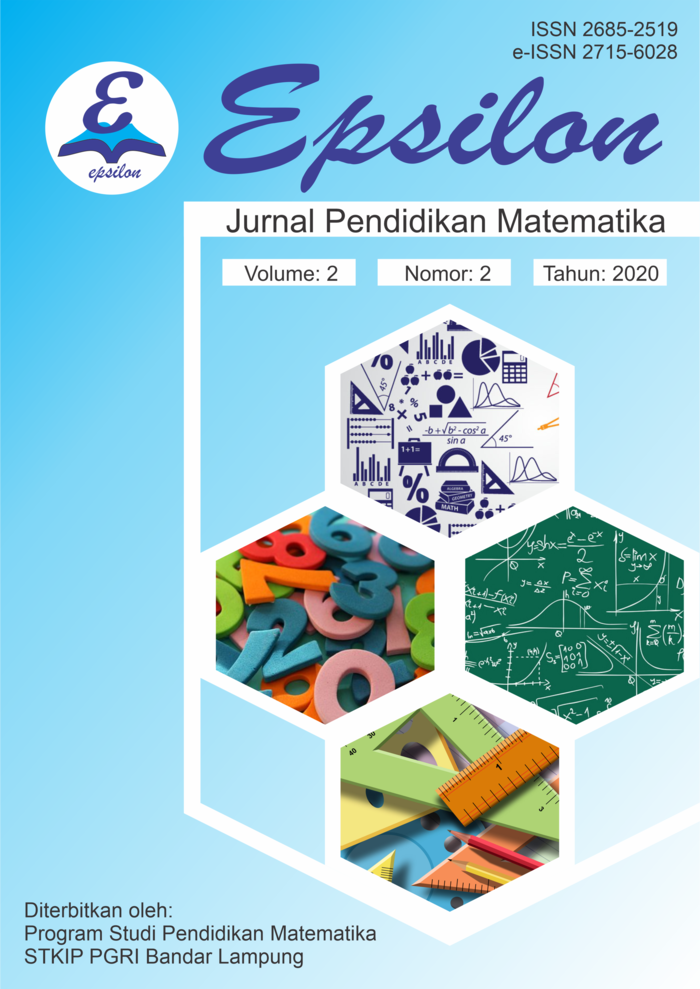 Downloads
Published
2022-03-28 — Updated on 2022-03-28
How to Cite
Riliyanti, B. T., & Noviyana, H. (2022). PENGEMBANGAN LEMBAR KERJA PESERTA DIDIK (LKPD) PADA MATERI SEGITIGA DAN SEGIEMPAT DENGAN PENDEKATAN MATEMATIKA REALISTIK INDONESIA (PMRI). Epsilon: Jurnal Pendidikan Matematika, 2(2). Retrieved from https://jurnal.stkippgribl.ac.id/index.php/epsilon/article/view/540