Reading Magical Realism in Salman Rushdie's Midnight's Children for Supporting EFL Students' Cross-Cultural Awareness
Keywords:
cross-cultural awareness, EFL students, Magical Realism, Midnigth's Children, Salman Rushdie
Abstract
The present study explores the magical realism contents in the Midnight's Children by Salman Rushdie. It also aims to investigate the way the magical realism contents to be adapted and integrated into the cross-cultural understanding material to support the EFL students' cross-cultural awareness.  The qualitative research method is employed for analysing the primary source by consulting it to the secondary sources. From the story, it is found that the struggle is available between two opposing structures in a mystical realist document, and one of them is working toward the development of a fantasy universe from the other. These are the worlds of fantasy and life, and they are all present and vying for the reader's interest. Thus, the study may deduce that Rushdie employs magical realist features such as time dilation and the introduction of myth, legends, and folklore. Rushdie has built something unique with Midnight's Children, and Saleem is honestly attempting to tell the tale of his existence, and the life of the new country. Moreover, based on the contents found, the instructional activities can be designed by adapting the magic realism content found in the story to build the cross-cultural awareness of the Indonesian EFL students. Moreover, magic realism content can also be an alternative and variation on the language and cultural classes.
References
Ahmad, M. R. W. (2016). Communicating culture through magical realism perspectives on selected Malaysian short stories. Malaysia Journal of Society and Space, 12(11), 187–199.
Ananth, A. G. (2017). Traits of Magic Realism in Salman Rushdie's Midnight's Children. International Journal of Computer Techniques, 4(3). http://www.ijctjournal.org
Benny, C. P. (2020). MAGIC REALISM AS A POST COLONIAL DEVICE IN SALMAN RUSHDIE'S MIDNIGHT'S CHILDREN. OUP.
Cresswell, J. W. (2009). Research Design Qualitative, Quantitative, and Mixed Methods Approaches (3rd ed.). SAGE.
Dash, P. P. (2014). Magical Realism: Growth and Development. IRWLE, 10(II).
Elliot, R., & Timulak, L. (2021). Essentials of Descriptive-interpretive Qualitative Research: A Generic Approach. American Psychological Association.
Mahfuzh, U. (2017). MAGICAL REALISM IN A SHINAGAWA MONKEY SHORT STORY BY HARUKI MURAKAMI: THE CONCEPT OF CHARACTERISTICS OF MAGICAL REALISM. State Islamic University of Syarif Hidayatullah.
Maximilian, A. (2016). THE EFFECTIVENESS OF SCAFFOLDED READING EXPERIENCE IN TEACHING READING VIEWED FROM STUDENTS' READING ANXIETY. LENTERA: Jurnal Ilmiah Kependidikan, 1, 196–212.
Maximilian, A. (2020). Translation Ability, Reading Habit, and Reading Skill in Vocational School Students in Indonesia: a Correlation. JETA: Journal of English Teaching and Applied Linguistic, 1(1).
Maximilian, A., & Ajeng, G. D. (2023). EXPLORING THE CROSS CULTURE UNDERSTANDING IN INDONESIAN EFL CONTEXT: A LITERATURE REVIEW. Lexeme : Journal of Linguistics and Applied Linguistics, 5(2), 298–306. http://openjournal.unpam.ac.id/index.php/LJLAL
Olaizola, A. M. (2019). The Arrival and Development of the English Language in India. Universidad Del Pais Vasco.
Suma, H. P. (2018). Magical Realism: Fascinating world of evolving imagery. IJCRT: International Journal of Creative Research Thoughts , 6(4). www.ijcrt.orgwww.ijcrt.org
Sutiyono, A., Maximilian, A., & Ajeng, G. D. (2023). EFL Teachers' Perceptions Regarding Cultural Awareness in ICT-Based Learning in Indonesian Elementary School Context. IJLHE: International Journal of Language, Humanities, and Education , 6(1).
Tasnim, H. (2021). Magical Realism in Salman Rushdie's Midnight's Children. and Italo Calvino's Invisible Cities. Brac University.
Thomas, D. R., & Thomas, Y. L. N. (1994). Same language, different culture: Understanding inter-cultural communication difficulties among English speakers. Proceedings of the International English Language Education Conference: National and International Challenges and Responses.
Wati, I. M., & Ayu, H. R. (2019). Magical Realism in Riggs' Miss Peregrine's Home For Peculiar Children. Litera-Kultura, 07(04).
Xavier, Y. C. S. (2019). CULTURAL IDENTITY THROUGH MAGICAL REALISM: THROUGH THE LOOKING GLASS OF MARQUEZ'S ONE HUNDRED YEARS OF SOLITUDE 725. International Journal of Recent Technology and Engineering (IJRTE), 7(5S4).
Yaqoob, M., & Sayyid, A. (2014). Mingling the Real and the Magical: Deconstructive Epistemology in Contemporary Fantasy Literature/Fiction. Journal of Critical Inquiry, 12(1).
Zulianti, H., Maximilian, A., & Ajeng, G. A. (2016). PENYULUHAN TENTANG PENTINGNYA PEMAHAMAN BUDAYA DALAM MENGAJAR BAHASA INGGRIS BAGI GURU-GURU BAHASA INGGRIS DI SMK PGRI 2 BANDAR LAMPUNG. Adiguna: Jurnal Pengabdian Dan Pemberdayaan Masyarakat , 1(2), 47–52. http://jurnal.stkippgribl.ac.id/index.php/adiguna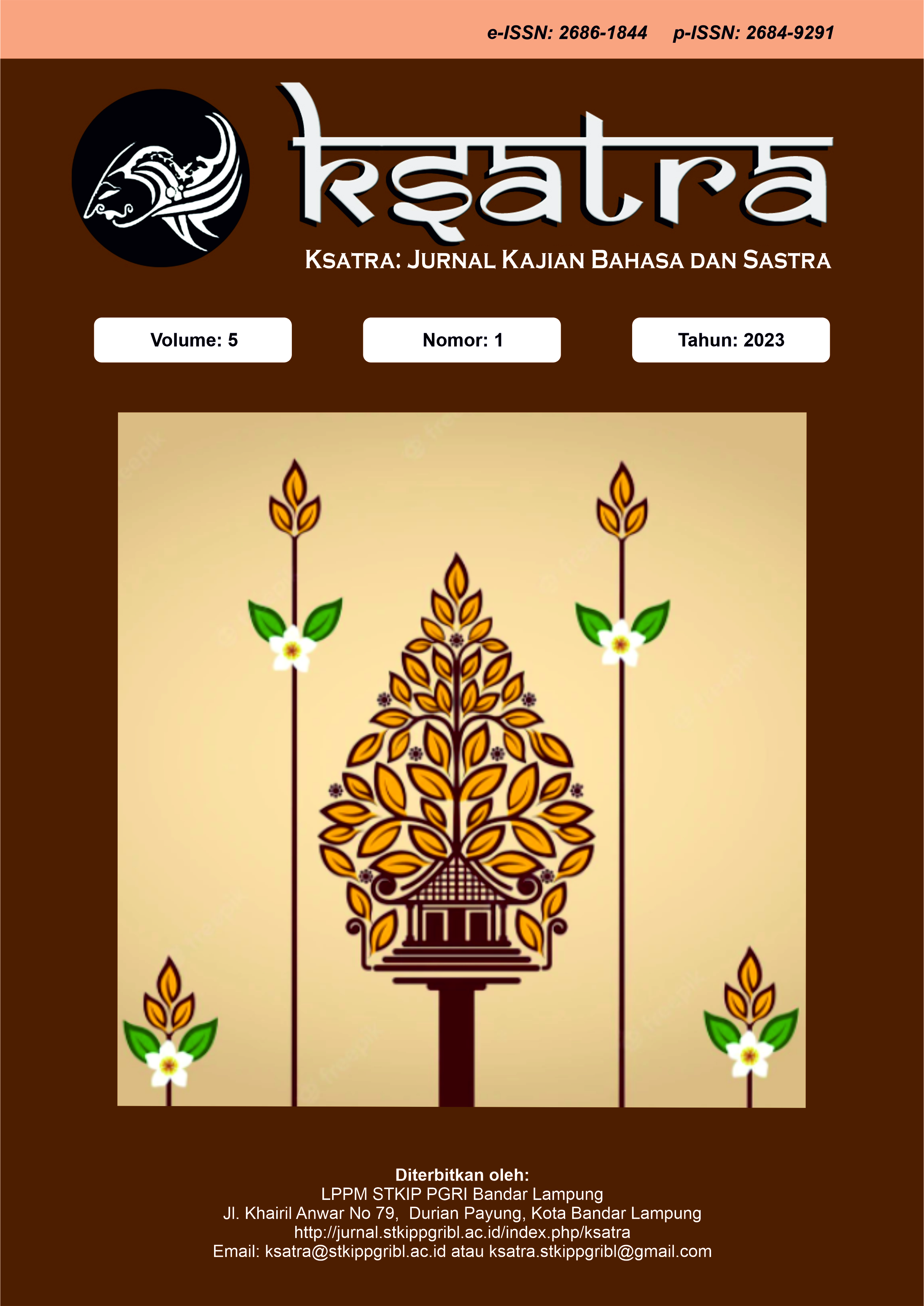 Downloads
How to Cite
Ajeng, G. D. ., & Maximilian, A. . (2023). Reading Magical Realism in Salman Rushdie's Midnight's Children for Supporting EFL Students' Cross-Cultural Awareness. Ksatra: Jurnal Kajian Bahasa Dan Sastra, 5(1), 195–208. https://doi.org/10.52217/ksatra.v5i1.1245