Zoom Application: An Educational Platform for Teaching EFL Students
Keywords:
Zoom Application, Experimental Research, EFL Students
Abstract
The research aimed to determine the effect of students' reading comprehension using the Zoom application. The researchers applied quantitative methods with a quasi-experimental design as the research methodology. The study included two classes; control class and experimental class. The students in the experimental class were taught using the Zoom application, and those in the control class were taught using the WhatsApp application. For data collection techniques, researchers used multiple-choice tests consisting of 40 questions. Considering the data analysis findings and the hypothesis test, the researcher found that Ha was received. It is obtained that the t-test was higher than the t-table at significance levels of 5% and 1% (5.29 > 1.67 < 2.39). There was an effect from using the Zoom application for reading comprehension. Moreover, the findings also illustrated that the result of the means score in the experiment class was higher than the control class (67.66 > 58.13).
References
Abdillah, L. A. (2020). Online learning menggunakan zoom teleconference. 48.
Alexander, R. (2018). Developing dialogic teaching: genesis, process, trial. Research Papers in Education, 33(5), 561–598. https://doi.org/10.1080/02671522.2018.1481140
Atmojo, A. E. P., & Nugroho, A. (2020). EFL Classes Must Go Online! Teaching Activities and Challenges during COVID-19 Pandemic in Indonesia. Register Journal, 13(1), 49–76. https://doi.org/10.18326/rgt.v13i1.49-76
Cresswell. (2009). English as a Foreign Language Volume 25 Issue 5 September 2021 ( Special Issue ). 25(5).
Dewi, D. S. (2020). The Implementation Of Cooperative Learning In Teaching Reading.
Fitria, T. N. (2020). Teaching English through Online Learning System during Covid-19 Pandemic. Pedagogy : Journal of English Language Teaching, 8(2), 138. https://doi.org/10.32332/pedagogy.v8i2.2266
Khusniyah, N. L. (2020). Teacher' s Perception on SQ4R in English Reading Comprehension Learning Using Zoom Application. 4(2), 231–238. https://doi.org/10.29408/veles.v4i2.2554
Kim, H. (2020). The Efficacy of Zoom Technology as an Educational Tool for English Reading Comprehension Achievement in EFL Classroom. International Journal of Advanced Culture Technology, 8(3), 198–205.
Laili, R. N., & Nashir, M. (2020). The Use of Zoom Meeting for Distance Learning in Teaching English to Nursing Students during Covid-19 Pandemic. UHAMKA International Conference on ELT and CALL (UICELL), December, 17–18.
Natsir, I., Latifa, A., & Ammade, S. (2021). Implementing Zoom as Blended Learning Platform to Obtain Learning Process From Home During The Pandemic of Covid-19 at MTSN 3 Enrekang. Pendidikan Bahasa Inggris, 10(May), 109–118.
Nurhasanah, N., Sulistyo, B., Agustiani, M., & Ulya, E. N. (2020). Students' Perceptions on the Use of Internet As Learning Media in Reading Classroom. Jurnal Basis, 7(1), 111. https://doi.org/10.33884/basisupb.v7i1.1864
Pratiwi, A. D., & Wahyuni, E. S. (2019). Potensi Aplikasi Zoom Cloud Meetings Dalam. Prosiding Seminar Nasional, October 2019, 1747–1754.
Priyatna, E. (2020). Pemanfaatan Aplikasi Zoom Cloud Meetings Sebagai Media Komunikasi Ditengah Pandemi Corona ( Covid-19 ) Utilization of Zoom Cloud Meetings Aplications As a Communication Media in the Center of Corona Pandemies ( Covid-19 ) Sebagai Media Komunikasi Ditengah. 1–81.
Putri, R. K. (2021). THE EFFECT OF USING ZOOM APPLICATION ON DEVELOPING ENGLISH LEARNING ( A Pre Experimental study at the 7.
Rahayu, S. (2021). Jurnal Kependidikan : Efek Media Zoom Cloud Meeting Terhadap Keaktifan dan Hasil Belajar Bahasa Indonesia Siswa di Masa Pandemi Covid-19 Sri Rahayu B .*, Sulastriningsih Djumingin , Munirah Program Pascasarjana Universitas Negeri Makassar * Corresponding. 7(3), 760–766.
Setiyadi. (2006). STRATEGY TRAINING ON LEARNERS' ORAL COMMUNICATION.
Treiman, D. J. (2014). Quantitative Data Analysis: Doing Social Research to Test Ideas - Donald J. Treiman - Google Buku (First). Jossey-Bass. https://books.google.co.id/books?hl=id&lr=&id=c-fOAgAAQBAJ&oi=fnd&pg=PR5&dq=quantitative+data+analysis&ots=gS4f4Bt3LG&sig=XeVoNT3uYaBwSMgdlGCo8ag4nws&redir_esc=y#v=onepage&q=quantitative%20data%20analysis&f=false
Yunita, S., Gailea, N., Evenddy, S. S., Training, T., Faculty, E., Sultan, U., & Tirtayasa, A. (2021). the Influence of Using Wattpad Application Toward Students' Reading Comprehension in Narrative Text. 9(2), 72–77.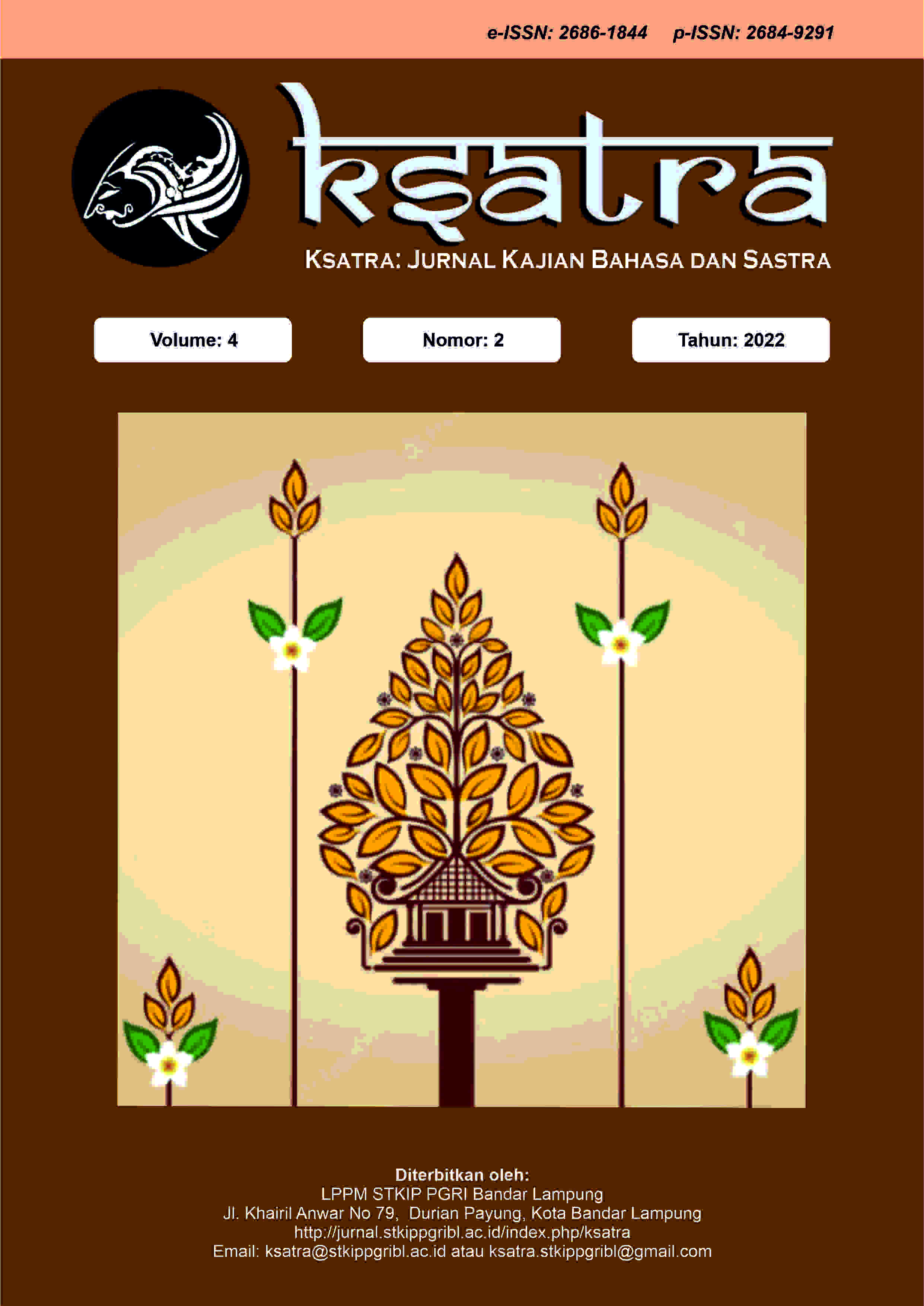 Downloads
How to Cite
Satria Jaya, W., Hastomo, T., & Lia Putri, N. (2022). Zoom Application: An Educational Platform for Teaching EFL Students. Ksatra: Jurnal Kajian Bahasa Dan Sastra, 4(2), 241–250. https://doi.org/10.52217/ksatra.v4i2.811