Analisis Wacana Kritis Model Teun A. Van Dijk pada Roasting Kiki Syahputri terhadap Para Menteri Kabinet Republik Indonesia
Keywords:
youtube, Teun A. Van Dijk, critical discourse analysis, Kiky Syahputri, Minister of the Republic of Indonesia
Abstract
This study discusses Kiki Syahputri's roasting video broadcast on Youtube with the title "Pecah!!! Kiky Saputri Roasting Jokowi's Ministers, All Do Not Move ". The purpose of this study is to analyze the elements of discourse using the Teun A. Van Dijk model on Kiki Syahputri's roasting show that aired on Youtube media with the title "Break!!! Kiky Saputri Roasting Jokowi's Ministers, All Do Not Move ". The research method used in this research is descriptive qualitative. The data analysis technique used by the researcher is using content analysis. The technique used in data collection is the note-taking technique. Based on the results of the study, it can be concluded that there are four elements with different sub-analyses. Among them are semantic elements (background, details, intent) which discuss in more detail the meaning that you want to emphasize in a discourse. Next is the syntactic elements (sentence forms, pronouns, stylistics, and rhetorical) which are used to analyze the form or arrangement of sentences used by Kiky Saputri and see how the emphasis is done by using the inclusion of images, word order in the title, bolding letters, italics, quotes, and so on within the cover of the video that airs on the YouTube channel.
References
Aidil, S,P., Bagus, H.H., Erlina C.R. (2021). Keberpihakan Pelaku Kriminalitas Dalam Surat Kabar Pos Kota Edisi 1 Juli 2020. Jurnal Stilistika: Jurnal Pendidikan Bahasa dan Sastra. E-ISSN: 2614-3127.
Badara, Aris. (2012). Analisis Wacana Teori, Metode, dan Penerapannya Pada Wacana Media. Jakarta: Kencana Prenada Media Group.
Eka, I., Syarial F.D., Muhammad S. (2022). Analisis Wacana Pada Roasting Kiki Syahputri Terhadap Erick Thohir menggunakan Teori Normal Fairclough. Jurnal Bahas. Vol 33 (2).
Fiona, A, R., Miftahul, K, A. (2021). Analisis Wacana Kritis Model Teun A. Van Dijk Pada Iklan Ramayana Departement Store. Jurnal Suar Betang. Vol 16 (2). E-ISSN: 2686-4975.
Idha, N., Pahriyono., Sumarlan. (2020). Analisis Wacana Kritis Pada Stand Up Comedy Indonesia. Jurnal Haluan Sastra Budaya. Vol 4 (2). ISSN: 2549-1733
Jufanny, D., & Girsang, L. R. M. (2020). Toxic Masculinity dalam Sistem Patriarki (Analisis Wacana Kritis van Dijk Dalam Film "Posesif"). Jurnal Semiotika, 14(1), 8–23.
Jumal, Ahmad. (2018). Desain Penelitian Analisis Isi (Content Analysis). Research Gate Journal, 5.1-20. https://www.researchgate.net/pro file/Jumal_Ahmad/publication/325965331_Desain_Penelitian_Analisis_Isi_Content_Analysis
Kridalaksana, H. (2008). Kamus Linguistik. Edisi Revisi. Jakarta. PT Gramedia Pustaka Utama.
Lambok, H, S., Farda, M, A., Rahmatia, R. (2021). Analysis of Kiky Saputri's Roasting:Critiques Towards Politicians. Journal Perspective: Language, Education and Literature Vol 9 (1). DOI: http://dx.doi.org/10.33603/perspective.v9i1.5150.
Moleong, L. J. (2016). Metode Penelitian Kualitatif. Bandung: Remaja Rosdakarya.
Muliana, Suci. (2015). Tindak Tutur Ekspresif Pada Film "Mimpi Sejuta Dolar" Karya Alberthiene Endah. Prosiding Seminar Nasional PRASASTI II: Kajian Pragmatik dalam Berbagai Bidang. DOI: https://doi.org/10.20961/pras.v0i 0
Nurhamida, I, dkk. (2020). Analisis Wacana Kritis Pada Stand Up Comedy Indonesia. Haluan Sastra Budaya, Vol. 4 (2).
Stevani, Elma Gloria. (2019). Komika Kiky Saputri Roasting Para Menteri Kabinet Jokowi, Susi Pudjiastuti Ngakak hingga Tepok Jidat. Retrieved from Tribunnews.com:https://www.tribunnews.com/nasional/2019/10/22/komika kikysaputri-roasting-para-menteri-kabinet-jokowi-susi-pudjiastuti-ngakak-hingga-tepokjidat.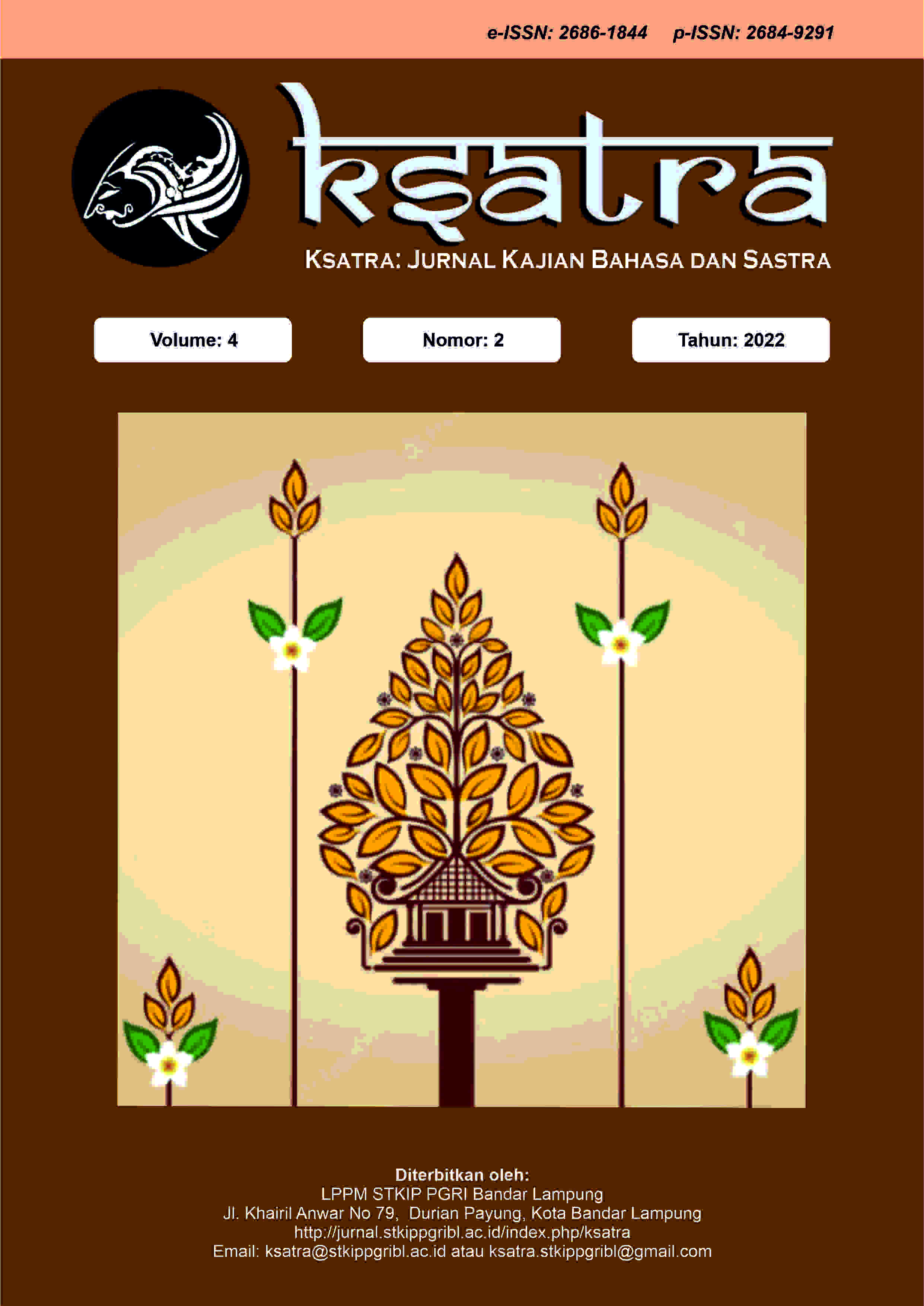 Downloads
How to Cite
Purawinangun, I. A. ., Rasyid, Y. ., & Anwar, M. . (2022). Analisis Wacana Kritis Model Teun A. Van Dijk pada Roasting Kiki Syahputri terhadap Para Menteri Kabinet Republik Indonesia. Ksatra: Jurnal Kajian Bahasa Dan Sastra, 4(2), 209–217. https://doi.org/10.52217/ksatra.v4i2.888