PENINGKATAN KEMAMPUAN PEMECAHAN MASALAH MATEMATIKA MELALUI PEMBELAJARAN DARING BERBASIS EDMODO
Keywords:
edmodo, learning mathematics, problem-solving.
Abstract
This research was motivated by the common mathematical problem-solving ability of class XII MIPA students at SMAN 1 Lubuklinggau. Problem-solving at school is an ability that must be mastered so that students can lead to understanding mathematics. This study aims to determine (1) the mathematical problem-solving skills of students participating in Edmodo-based online learning and (2) the improvement of students' mathematical problem-solving abilities after being treated with Edmodo-based online learning. 2020/2021 with a total of 36 students. Classroom Action Research Procedures was carried out through four stages, namely: (1) Planning, (2) Implementation, (3) Observation, and (4) Reflection. Research data was collected by test and observation techniques. Data analysis was carried out by comparing test results and observation data with the formulated indicators of success. Based on the results of data analysis, it can be concluded that, Edmodo-based online learning can improve the mathematical problem-solving abilities of class XII MIPA 7 students of SMA Negeri 1 Lubuklinggau. The average value of mathematical problem-solving abilities from the first cycle of 62.2 increased in the second cycle to 77.3. The percentage of learning completeness also increased from the process I by 52.8% and in cycle II by 80.6%. The rate of students' mathematical problem-solving ability increased after being given action was 23.67%. The interpretation of students' problem-solving abilities in the material on Limits of Trigonometry Functions after being given an Edmodo-based online learning activity is included in the good category.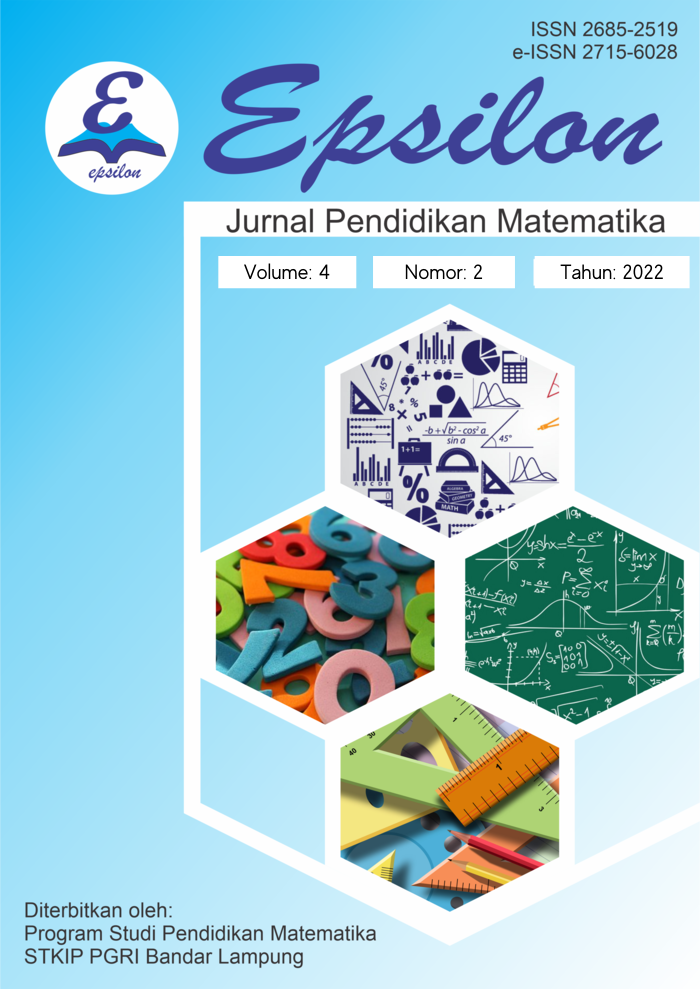 Downloads
How to Cite
Ningsih, Y. (2023). PENINGKATAN KEMAMPUAN PEMECAHAN MASALAH MATEMATIKA MELALUI PEMBELAJARAN DARING BERBASIS EDMODO. Epsilon: Jurnal Pendidikan Matematika, 4(2). Retrieved from https://jurnal.stkippgribl.ac.id/index.php/epsilon/article/view/1067