MENINGKATKAN KEMAMPUAN GURU MELALUI PENDAMPINGAN PENERAPAN MODEL PENILAIAN PORTOFOLIO BERBASIS PERAN SERTA ORANG TUA
Keywords:
Portfolio-Based Assessment, Learning Outcomes, Activities.
Abstract
The purpose of the study was to analyze the role-based portfolio assessment model for Civics subjects to improve student learning outcomes. The method used is School Action Research with research subjects of teachers and students of class VI, with research techniques carried out namely observation, questionnaires, documentation studies. Teacher activities have a percentage that has met the research indicators, both in the opening, core, closing phases (97.82%), Student activities are very active in doing assignments, respecting time, neat, and disciplined (88.62%). The results of the parents' questionnaire showed that the responsibility for learning lies not only with the teacherbut also the parents (87.60%).
References
Aqib, Zainal dkk. 2 008.PenelitianTiindakanKelas. Bandung:CV YramaMedia.
Daradjat,Zakiah,dkk.1992.IlmuPendidik an Islam.Jakarta: Bumi Aksara.
Depdikbud.1993.KamusBesar BahasaIndonesia.Jakarta:BalaiP ustaka.
Djamarah,SyaifulBahri. 2002.Psikologi Belajar.Jakarta:Rineka Cipta, 2002.
Frey,BruceB. 2014.ModernClassroom Assessment. UnitedStateofAmerica:SagePublications., Inc.
Gunarsa,SinggihD,dkk.2011. PsikologiPraktisAnak,Remaja,danKeluarga. Jakarta:PenerbitLibri
Hery,Noer Aly. 1999.Ilmu PendidikanIslam.Jakarta:Logos.
Indarti. Titik. 2008.PenelitianTindakan kelas(PTK)danPenulisan Ilmiah. Surabaya:FBS.
Muhaimin.2002.ParadigmaPendidikanIslam(UpayaMengefektifkanPendidikanAgamaIslam diSekolah).Bandung: RemajaRosdakarya.
Mussen, Paul Henry, dkk. (1984).Perkembangandan KepribadianAnak. Jakarta: Erlangga.
Ormrod, Jeanne E. 2009. Psikologi Pendidikan Membantu Siswa Tumbuh dan Berkembang.Jakarta: Erlangga
Purwanto, M. Ngalim. 1995.Psikologi Pendidikan.Bandung:Remaja Rosdakarya.
Purwanto, M. Ngalim. 2004.Ilmu PendidikanTeoritisdan Praktis.Bandung:Remaja Rosdakarya.
Sardiman, A.M. 1996.Interaksidan Motivasi BelajarMengajar.Jakarta:Raja GrafindoPersada.
Slameto. 1995.Belajardan Faktor-faktorYang Mempengaruhinya.Jakarta:Rineka Cipta.
Slavin,RobertE. 2009.Psikologi PendidikanTeoridan Praktik. Jakarta:Indeks
Sugiyono.2008.MetodologiPenelitian Pendidikan. Bandung: Alfabet
Surapranata,SumarnadanHattaMuhammad.2006.Penilaianportofolioimplementasikurikulum2004. Bandung:Remaja Rosdakrya.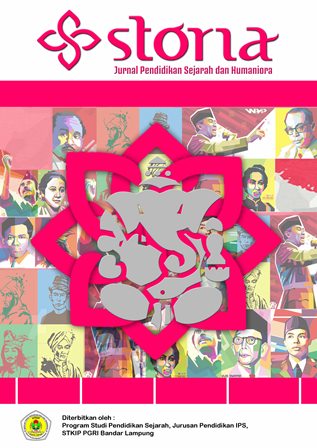 Downloads
How to Cite
Sujawi. (2022). MENINGKATKAN KEMAMPUAN GURU MELALUI PENDAMPINGAN PENERAPAN MODEL PENILAIAN PORTOFOLIO BERBASIS PERAN SERTA ORANG TUA. Storia: Jurnal Pendidikan Sejarah Dan Humaniora, 3(2), 78–84. Retrieved from https://jurnal.stkippgribl.ac.id/index.php/storia/article/view/936