Applying Picture Series to Promote Students' Writing Achievement on Recount Text
Keywords:
classroom action research, picture series, writing skill
Abstract
This research was conducted to find out the improvement of students' writing skill on recount text by using picture series and to know the process of implementation of picture series in teaching writing on recount text to the tenth-grade students of SMA Gajah Mada Bandar Lampung. The subjects of this research were 30 students of X IPA 1 at SMA Gajah Mada Bandar Lampung. This research was used classroom action research. Furthermore, the data collected through qualitative and quantitative data. The researcher used interviews, and observation checklist in collected the qualitative data and used tests in collected the quantitative data. The research findings reveal that the using picture series to improve students' writing skills, particularly recount text, was beneficial. Students' writing scores also demonstrated an improvement in their writing abilities. The increasing mean score from pre-test until post-test 2 is 12.96. The students' attitudes towards studying English are also improving, as indicated by their increased participation in class. It can be concluded that, by using picture series media, the students' writing skill is improved.
References
Aminatun, D., Ngadiso, N., & Marmanto, S. (2019). Applying PLEASE strategy to teach writing skill on students with different linguistic intelligence. Teknosastik, 16(1), 34-40.
Andayani, T. (2016). IMPROVING STUDENTS'ABILITY IN WRITING NARRATIVE TEXT BY USING PICTURE SERIES FOR THE EIGHT GRADE STUDENTS OF JUNIOR HIGH SCHOOL. JOALL (Journal of Applied Linguistics and Literature), 1(2), 1-10.
Brown, H. D. (2000). Principles of language learning and teaching (Vol. 4). New York: Longman.
Burns, A. (1999). Collaborative Action Research for English Language Teachers. Cambridge: Cambridge University Press.
Citraresmana, E. (2018). English Language Competence of Secretary Students through Report Writing: Corpus Based Study. Teknosastik, 16(1), 1-8.
Creswell, J. W. (2012). Educational Research: Planning, conducting and evaluating quantitative and qualitative research. (4th ed.). University of Nebraska-Lincoln.
Dewi, N. P. E. F., Martha, I. N., &Wendra, I. W. (2016). Kesulitan Belajar Keterampilan Menulis Cerita Pendek Siswa Kelas IXC SMP Negeri 3 Singaraja Tahun Pelajaran 2016/2017. Journal Pendidikan Bahasa dan Sastra Indonesia, Undiksha, 5(3).
Harmer, J. (2002). The Practice of English Language Teaching; third edition. Malaysia: Longman.
Hastomo, T., Istiara, F., & Nurchurifiani, E. (2021). Google Classroom: An online platform for teaching English. Aksara: Jurnal Bahasa dan Sastra, 22(2), 300-308.
Jaya, W. S., Hastomo, T., & Putri, N. L. (2022). Zoom Application: An educational platform for teaching EFL students. Ksatra: Jurnal Kajian Bahasa dan Sastra, 4(2), 241–250.
Joklova, K. (2009). Using pictures in teaching vocabulary. Masaryk University.
Laraswati, I. &Suhartono, S. (2016). The Use of Visual Media in Teaching Writing. English Education: Journal of English Teaching and Research, 1(1), 37-43.
Mills, G. E. (2011). Action research: A guide for the teacher researcher (with MyEducationLab). (4th ed.). Upper Saddle River, NJ: Pearson/Allyn & Bacon.
Pratiwi, D. (2016). Improving the Tenth Grade Students' Writing Skill by Using Picture Series. JELE (Journal of English Language Education),2(1), 11-17.
Setyanida, H. A. (2019). The Advantages of Using Quipper School as a Media for English Teaching in Junior High School Student. ETERNAL (English Teaching Journal),10(1), 58-65.
Sutiyono, A., & Hastomo, T. (2022). The integration of DRTA strategy and the Zoom conference for teaching reading: An action research. Aksara: Jurnal Bahasa dan Sastra, 23(2), 57-66.
Urquhart,V., & Mclver, M. (2005). Teaching Writing in the Content Areas. Alexandria, VA: Association for Supervision and Curriculum Development.
Wahyuni, K. A. S., Mantra, I. B. N., & Handayani, N. D. (2020). The Use of Picture Series to Improve Writing Skill of EFL Learners. International Journal of Applied Science and Sustainable Development (IJASSD),2(2), 33-37.
Wright, Andrew. (1989). Pictures for Language Learning. Cambridge University Press.
Yusnita, E., Sada, C.,& Novita, D. (2012). Improving Students' Recount Text Writing by Using Picture Series. Jurnal Pendidikan dan Pembelajaran Khatulistiwa, 2(4).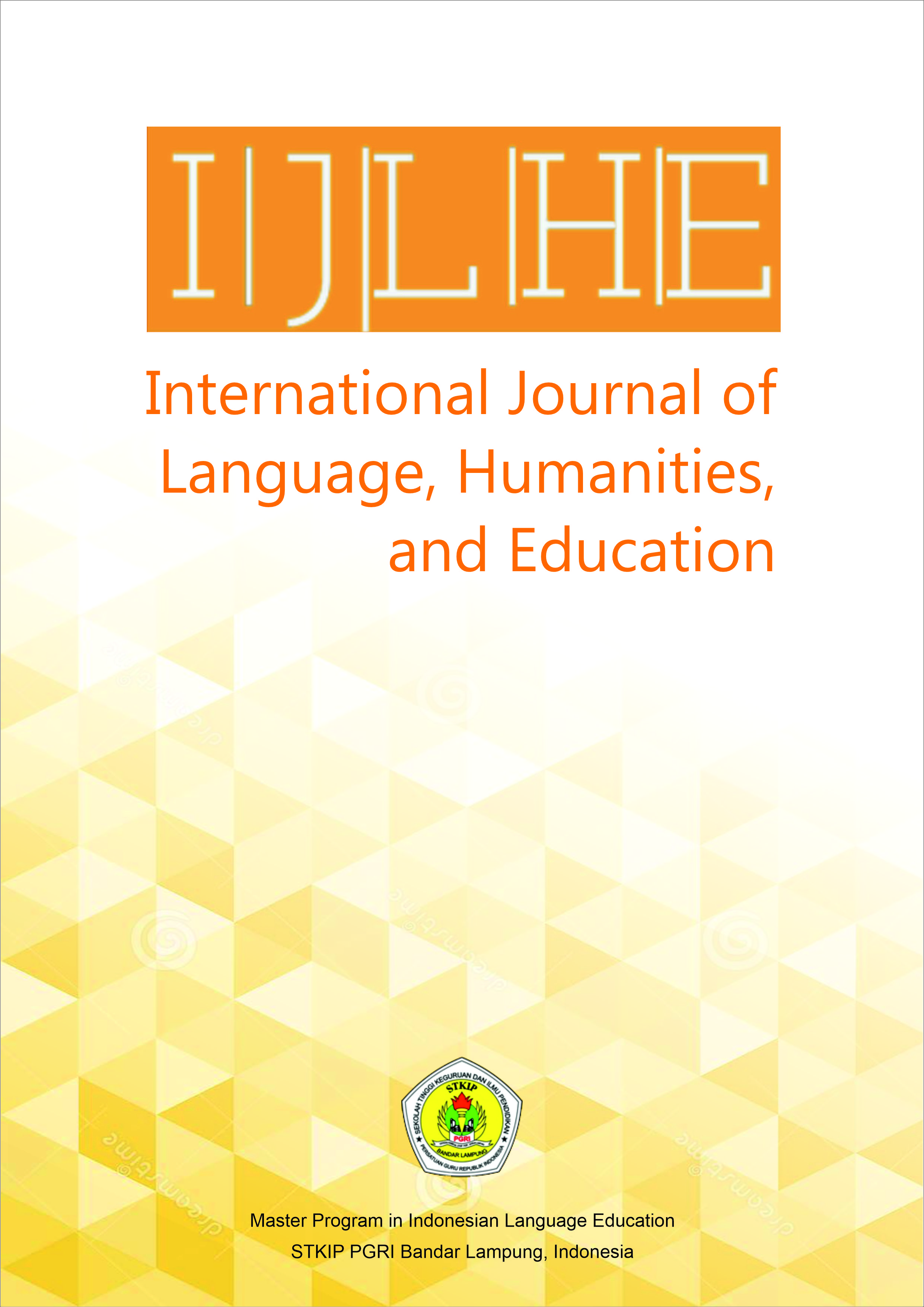 Downloads
How to Cite
Aminatun, D. ., & Putri, N. (2023). Applying Picture Series to Promote Students' Writing Achievement on Recount Text. IJLHE: International Journal of Language, Humanities, and Education, 6(1), 53–60. https://doi.org/10.52217/ijlhe.v6i1.1213